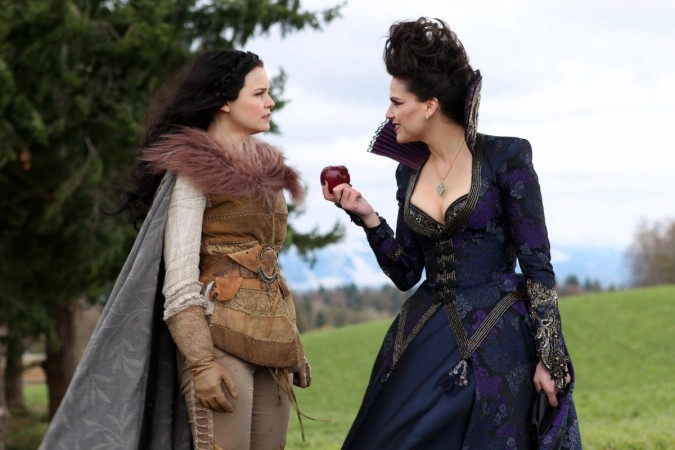 The premiere episode of "Once Upon a Time" season 6 is likely to revolve around Snow White a.k.a Mary Margaret Blanchard, as creator Adam Horowitz hinted at troubled moments for her.
The executive producer recently revealed that the followers of ABC series can expect an "impending battle" between the Evil Queen and Ginnifer Goodwin's character as the classic villain is planning to revive an old grudge against her, according to TV Line.
The new revelation came as a surprise to the fans of fantasy series as many of them were expecting Lana Parrilla's character to move against Emma Swan and Regina Mills. However, it remains to be seen if Snow will manage to defeat the villain and the save the heroes of Storybrooke.
Additionally, the official synopsis indicates that challenges are ahead for the heroes of Storybrooke, including Emma Swan, Captain Hook, Prince Charming and Regina Mills.
Check out the official synopsis of "Once Upon a Time" season 6 episode 1 below:
In the season premiere episode, "The Savior," as our heroes set out to stop Hyde, Emma develops a mysterious side effect, and Storybrooke becomes a haven for refugees from the Land of Untold Stories. Meanwhile, Regina and Zelena embrace their new-found sisterhood by becoming roommates, while Rumple tries to free Belle from the sleeping Curse with the help of a stranger. In flashback, Jafar confronts an afflicted Aladdin in Agrabah, and a secret about the Savior is revealed.
Meanwhile, a brief summary of the upcoming sequel teased a life-altering secret for Jennifer Morrison's character, which might have serious consequences for her family and loved ones. It also explains how the new arrivals from the Land of Untold Stories entangles Snow White, Prince Charming, Regina, Captain Hook and Zelena with their tales.
For Mr. Gold, it is time to focus on Belle. So he will hand over Storybrooke to Mr. Hyde and begin his quest to wake her from the self-induced sleeping curse in the hope of reuniting with Emilie de Ravin's character and their unborn child.
ABC will telecast "Once Upon a Time" season 6 premiere, titled "The Saviour", next Sunday, Sept 25, at 8pm.