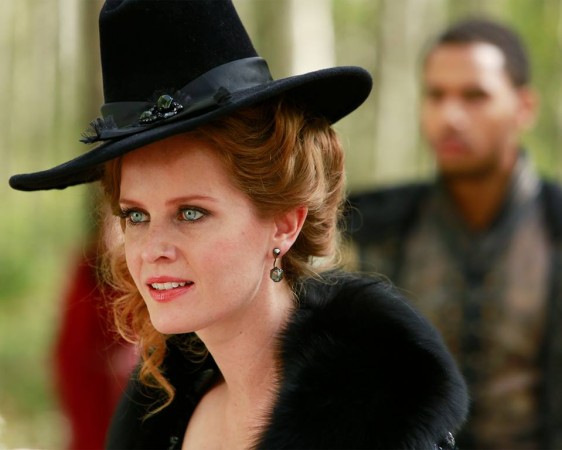 "Once Upon a Time" Season 5 in the last few episodes has been revolving around Halena's romantic past and now it looks like a reunion may happen in the next episode, while more heroes come down to the Underworld.
CLICK HERE to watch "Once Upon A Time" Season 5 episode 18 live online. You can CLICK HERE to watch "Ruby Slippers," later online.
Last time, episode 17 took fans into the past where Belle met Gaston, who was trying to hunt down an ogre, but Belle doubts that there more to the story. Back down in the Underworld, Hades provoked Gaston to seek revenge from Gold, and this led to Belle finding out about the previous unfinished job. And then, Hades made a deal with Belle by telling her that it could determine the fate of her unborn child.
At the end of the episode, Hook and Snow attempted to reverse the graveyard spell, but it doesn't work. And finally, when Hook sensed a white cyclone coming from Oz, Hook, Emma, Snow, and Regina went to the woods, where Emma used her magic to take the creature out, which turned out to be a werewolf, who Snow discovers is actually Ruby/Red Riding Hood, who just ended up in the Underworld.
In episode 18, it looks like the love-hate drama going on between Hades and Zelena may finally end as the Lord of the Underworld goes to visit the Wicked Witch to warn her about Ruby and Mulan, who are getting prepped up to avenge her. It looks like Halena may rekindle their relationship and reunite.
The promo of "Ruby Slippers" shows that the Ruby and Mulan reach Oz where they meet Dorothy and discover that even Zelena also has returned. The three of them join hands to defeat the Wicked Witch, but in the process Dorothy mysteriously disappears, and when Ruby goes out looking for her, she ends up in the Underworld where she will seek help from Emma, Regina and Snow.
Meanwhile, the synopsis of the upcoming episode also teases David and Snow conflicting over being apart from their son Neal. Ever since the couple went on a mission with Emma to go down to the Underworld, they have had no access to their son and the next episode will throw light of their growing concerns.
Plot synopsis for "Ruby Slippers" (via TV Guide) reads: "Ruby looks for Dorothy, whom she and Mulan met in Oz awhile back, and her search leads her to the Underworld, where she asks for assistance from Emma, Regina and Snow. Meanwhile, David and Snow concoct a scheme so one of them can be with baby Neal."
"Once Upon A Time" Season 5 episode 18, titled "Ruby Slippers," will be aired on ABC Sunday, April 17, 2016 at 8 p.m.