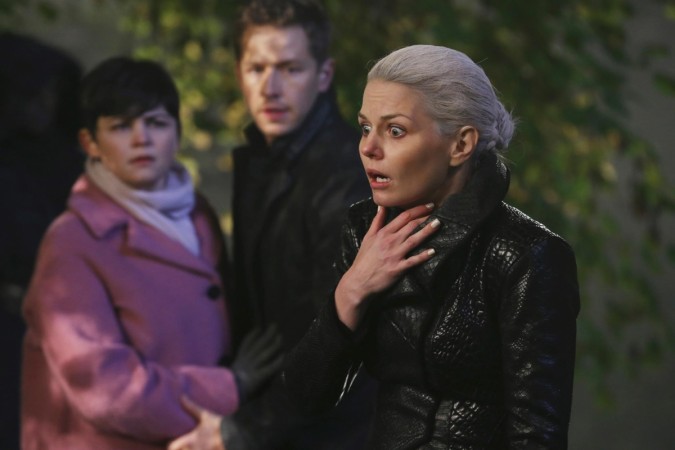 "Once Upon a Time" Season 5 is all set to return from its midseason break this Sunday. ABC's fantasy drama went on a three-month long hiatus after it aired Episode 11, "Swan Song" on Dec. 6, 2015. And now, fans can watch the midseason premiere Episode 12, "Souls of the Departed" on March 6, 2015.
CLICK HERE to watch "Once Upon A Time" Season 5 Episode 12, titled "Souls of the Departed," live online. You can CLICK HERE to watch it later online.
In the winter finale, we saw how Captain Hook sacrificed himself to take away the Darkness in him, Emma and all others. But his sacrifice goes for a waste when Rumplestiltskin betrayed and became the Dark One once again. At the end of Episode 11, Emma along with others decided to go down to the Underworld to bring back Hook.
Now, as the show returns for its spring premiere, which also marks the series' 100th episode, showrunners have already hinted that the second half will be darker and the journey for our Storybrooke heros will be wild as they explore the Underworld.
The synopsis for "Souls of the Departed" teases that their trip to the Underworld will be challenging for our heros as they will come across various faces from the past. And the promo for the upcoming episode shows Snow White searching for Granny's Diner, while the Evil Queen is still hunting for her, we also see Regina reuniting with her mother in the Enchanted Forest.
But one thing that fans want to see is whether Emma succeeds in bringing back Hook alive. Now, if the words of the showrunners are anything to go by, then the chances look bleak.
In an interview, when showrunner were asked if bringing back Hook from Underworld will make way for others down there to come back from the dead too, they said: "Who said they can bring back Hook? He may die harder."
"He may die there. To be honest, he's already dead. He may rot there," they added.
So, will Emma lose Hook for good? Will the Captain die in Episode 12? We will have to wait and watch.
Plot synopsis of "Souls of the Departed" (via TV.com) reads: "The mission to rescue Hook begins as the heroes arrive in the Underworld, but it proves to be more challenging than they expected when they run into vengeful faces from the past. Meanwhile, back in the Enchanted Forest, Regina receives a special birthday gift."
"Once Upon A Time" Season 5 Episode 12, titled "Souls of the Departed," will air on ABC on Sunday, March 6, 2016 at 8 p.m.