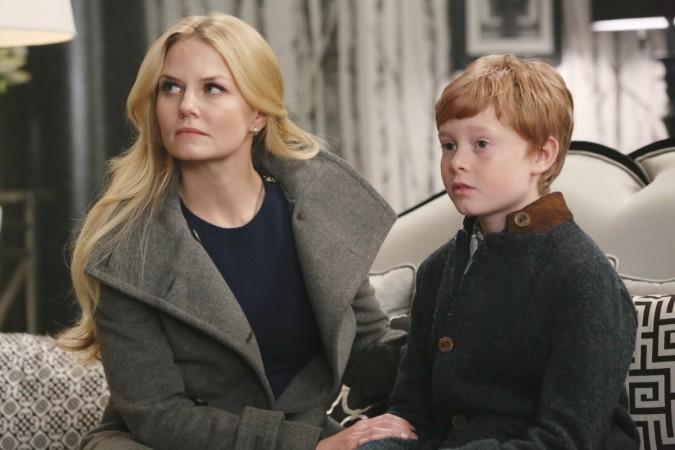 "Once Upon a Time" is at one of its most prominent crossroads, as both of Maleficent's accomplices are disposed off; Ursula was given her happy ending, while Cruella was killed ironically by the saviour.
Emma is burdened by the duty of bringing back Maleficent her daughter Lily and Regina, and saving Robin Hood from her sister, the Wicked Witch of the West.
Over the course of this season's second half, it has been revealed that Snow White (Ginnifer Goodwin) and Prince Charming (Josh Dallas) have been hiding a dark secret; that they were the reason Maleficent lost her daughter. When it was professed that their child would either be the embodiment of darkness or goodness, Charming and Snow decided to eliminate the risk of darkness by transferring it to another "blank slate" Maleficent's (Kristin Bauer van Straten) egg.
However, fate has decided that lives of Emma (Jennifer Morrison/ Abby Ross) and Maleficent's daughter will always be intertwined. She is the best Emma had while in foster care. Lily (Agnes Bruckner/ Nicole Munoz) was shown in the flashbacks involving Ice Queen, as the girl who ran away from home and lived with Emma for a while. Realising that Lily is the daughter of Maleficent, Emma decides to unite the duo. However, it may end badly for her, as Lily wants Emma's parents to pay for their crimes.
Meanwhile, Regina (Lana Parrilla) is in New York, trying to save the love of her life Robin Hood (Sean Maguire) from wicked clutches of her sister Zelena (Rebecca Mader). However, she may find it hard to live in a crazy, crowded city without any magical assistance and she may actually have to use the gun Emma gave her for safety.
With the arrival of Lily into "Once Upon a Time" right after Emma killed Cruella (Victoria Smurfit), may be precursory warning that the latter slipping into the deep abyss of darkness. The incredibly written story of Cruella deserves special mention. The psyche of a sociopath was brilliantly captured in a single dialogue by Cruella: "Some people struggle not to be drawn into the darkness. But ever since I was a little girl I've said, why not splash in have fun?"
After the sob stories of Maleficent and Ursula (Merrin Dungey), Cruella's story was a refreshing one; well-suited for a villain. With Maleficent's desired happy ending being her lost daughter, and Ursulla's happy ending getting back her singing voice, Cruella's happy ending came as a shock to viewers. After Cruella broke his heart, the author (Patrick Fischler) wrote away the one thing she loved most, killing people; getting back that ability, was her happy ending.
However, not knowing that Cruella is rendered incapable of killing and hence cannot hurt Henry (Jared S. Gilmore), Emma killed Cruella. Will Snow and Charming's precautionary measure amount to nothing as Emma goes on to use the full potential of her darkness?
Find out in season 4 episode 20 "Lily" of "Once Upon a Time", on Sunday, 26 April, at 8.00 pm (EST) on Sunday, 26 April.