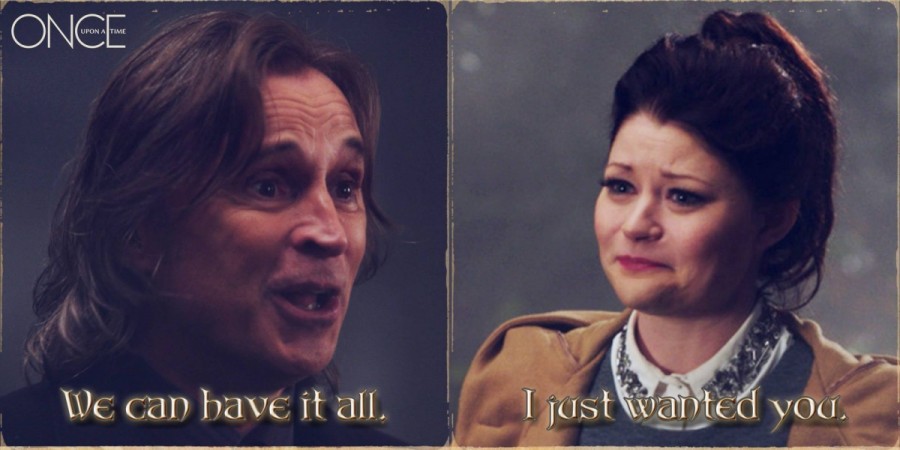 Rumplestiltskin (Robert Carlyle) is back in Storybrooke and "Once Upon a Time" fans are curious to know Belle's (Emilie de Ravin) reaction in Season 4 episode 14, titled "Unforgiven", which will be aired on ABC this Sunday, 8 March, at 8pm.
Executive producer Adam Horowitz says a reunion between Belle and Rumplestiltskin is pretty difficult in the near future. "Now, if they are to have any chance to be together she has to be a strong person and what he has to do is going to be, probably, pretty difficult," he told Variety.
Even the title of episode 14 suggests that Belle will not forgive her love for his evildoings and the beast will have to wait a little longer for his happy ending.
On the other hand, Evil Queen Regina Mills (Lana Parrilla) and her adopted son Henry Mills (Jared S. Gilmore) will reach out to Pinocchio aka August Wayne Booth (Eion Bailey) to find out whether he remembers anything about the storybook, stated the official synopsis of episode 14.
Meanwhile, David Nolan (Josh Dallas) and Mary Margaret (Ginnifer Goodwin) suspect Cruella de Vil (Victoria Smurfit) and Ursula's (Merrin Dungey) hidden intentions in returning back to Storybrooke. They believe that the evil queens are looking for something that might reveal a secret they thought was long buried.
At the same time, Emma Swan (Jennifer Morrison) will also begin her own investigation about Cruella and Ursula. However, she finds it hard to come out of the feeling that her friends and family are keeping something from her.
In flashback sequence, Snow White and Prince Charming will cross paths with the Queens of Darkness as the threat of the Evil Queen's Dark Curse hangs over all of them, stated the synopsis of "Unforgiven".
So the viewers can expect some major developments in the storyline of the fairytale drama this week, and it could probably revolve around the author of Henry's storybook.