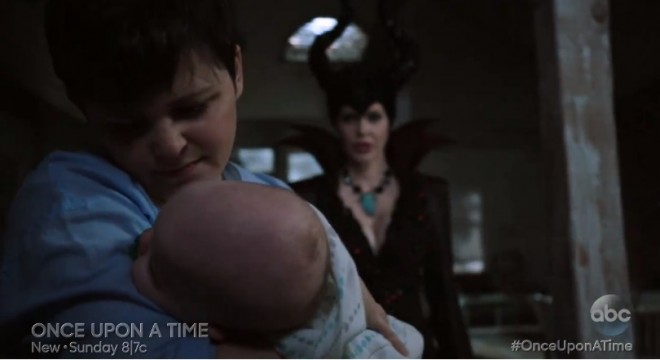 "Once Upon a Time" will air episode 15 of season 4 on Sunday, 15 March, at 8pm (EST). With Ursula and Cruella bringing back their old friend back from the dead in episode 14 titled "Unforgiven", it is safe to assume that "Enter the Dragon" attributes to Maleficent. She has entered Storybrooke with one mission ― destroying Snow White's happiness.
In "Unforgiven", it was revealed that Snow White (Ginnifer Goodwin) isn't as heroic as everyone knows her to be. She admitted to Regina (Lana Parrilla) that she has a dark secret that she doesn't want her daughter Emma Swan (Jennifer Morrison) to know. When she was pregnant, there was a huge possibility for her child, the product of true love, to be extremely good. However, there was an equal potential for her to be dark, as well.
Although it was not revealed what exactly Snow White did, she admitted to Regina that she was the reason Maleficent's (Kristin Bauer van Straten) child died. To ensure that Emma was born with only light magic and her potential for dark magic wasn't triggered, Snow White and Prince Charming (Josh Dallas) went to great lengths, probably even killed Maleficent's baby.
Maleficent, who had confided only in Snow White ― as of "Unforgiven ― that she was pregnant, has been brought to Storybrooke by Ursula (Merrin Dungey) and Cruella (Victoria Smurfit) with the blood of those that wronged her most, Snow White. Maleficent has vowed that she would not rest until Snow White, who now lives as Mary Margaret in Storybrooke, feel the same amount and intensity of pain that she suffered.
With the help of Ursula, Cruella and Rumpelstiltskin (Robert Carlyle), she will get to work as early as 14 March. Since she told Snow White that exposing her secret is in her agenda, it can be assumed that she might be resorting to magic to destroy her family and her happiness.
Scared and paranoid about the safety of her son, Neal, Snow White approaches her step-mother, the evil Queen and admits the truth. Mary Margaret asks Regina to hold on to her dark secret even though she was not able to hold on to Regina's, referring to Regina's affair with Daniel in the enchanted forest. She further asks Regina to infiltrate the villain's gang, convince them that she is still evil and stop them from ruining the peace in Storybrooke.
As per the teaser for "Enter the Dragon", Regina has agreed to do the same, meaning her search for the author of the story book is put on hold.
Meanwhile, Emma is almost positive that her parents are hiding something from her. With a special talent for recognising when she is being lied to, Emma will most possibly figure out her parents' dark secret from the Enchanted Forest.
Rumpelstiltskin, who is roaming the streets of Storybrooke, found out that Belle (Emilie de Ravin) has moved on. However, he is hoping for a happy ending soon. Will it include Belle, his one true love? Or is he angry with her for forgetting him and exiling him from town and punish her for the same?
Watch out for "Enter The Dragon", season 4 episode 15 of "Once Upon a Time" on abc at 8pm (EST) on Sunday, 15 March.