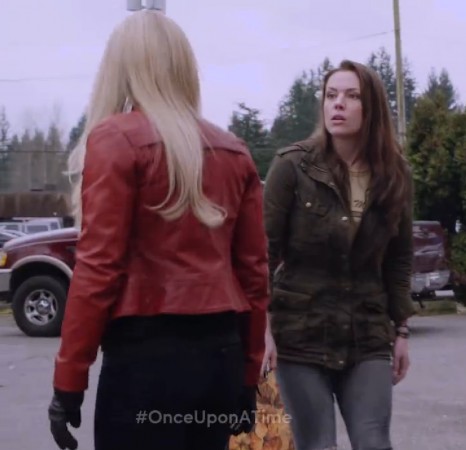 ABC will telecast a jaw dropping finale of "Once Upon a Time" season 4 titled "Operation Mongoose" on Sunday, 10 May, at 8pm and it is likely to revolve around the future of Emma Swan (Jennifer Morrison) and her childhood friend Lily (Agnes Bruckner).
Among the three evil characters introduced in the mid-season premiere of the fourth season, Ursula (Merrin Dungey) got her happy ending, Cruella de Vil (Victoria Smurfit) was killed by Morrison's character and it is Maleficent's (Kristin Bauer van Straten) turn to know her future.
Although Straten's character will get a chance to spend some time with her daughter in the penultimate sequel, she could experience the pain of departure in finale. The reason for it could be Prince Charming aka David Nolan (Josh Dallas) and Snow White aka Mary Margaret (Ginnifer Goodwin)'s daughter.
It has already been revealed that Bruckner's character has evil powers and she wants to take her revenge on Prince Charming and his partner. So Morrison's character might have to kill her childhood friend to save her parents.
In the meantime, the sequel will also show the next move of Author (Patrick Fischler), Mr Gold aka Rumplestiltskin (Robert Carlyle), Wicked Witch aka Zelena (Rebecca Mader), Evil Queen Regina Mills (Lana Parrilla), Robin Hood (Sean Maguire) and Maid Marian (Christie Laing).
However, viewers of the supernatural series will have to wait a little longer to know more about episode 22 and 23 as the cable network is yet to release the official synopsis and trailers for the two-part finale.
Meanwhile, fans can watch the upcoming episode of "Once Upon a Time" Season 4 episode 21 titled "Mother" on ABC this Sunday, 3 May, at 8 pm, which will be live-streamed here.