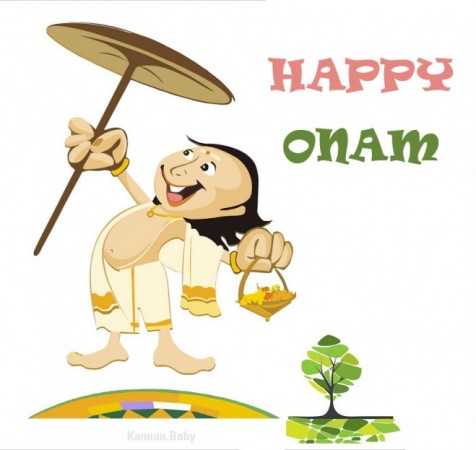 Onam, which is considered the most important festival for people of all religions in Kerala, is being celebrated on Sept. 14 this year. The auspicious 10-day festival is all about spending time with family and engaging in dance and music in the Malayalam month of Chingam.
From Thiruvathirakali (dance) to welcoming King Mahabali with special Onam songs, the day is celebrated with much harmony and joy. "Maveli Naadu Vaanedum Kaalam," "Poovili poovili Ponnonamaay," and "Oh thithithaara thithithithay" are some of the most popular Onam songs.
Check Onam significance | Onam wishes, messages
The other highlights of the festival are boat race (Vallam Kali), tiger dance (Pulikali), flower carpet (Pookkalam), Tug of War (Vadamvali), Thumbi Thullal, Kummati kali, Onam fight (Onathallu) and Onavillu, among others.
International Business Times, India has compiled a list of popular as well as new Onam songs to celebrate the festival this year. Check the audios, videos and lyrics of the Onam songs here:
Maveli Naadu vaanidum kaalam
Manushyarellarum onnu pole
Aamodathode vasikkum kaalam
Aapathangarku-mottilla thaanum

Aadhikal vyaadhikal onnumilla
Baalamaranangal kelkkanilla
Dushtare kankondu kaanmanilla
Nallavarallathe illa paaril...

Kallavumilla chathiyumilla
Ellolamilla polivachanam...
Vellikolaadikal naazhikalum
Ellam kanakkinu thulyamaay.

Kallapparayum cherunazhiyum
Kallatharangal mattonnumilla
Kallavumilla chathiyumilla
Ellolamilla polivachanam
Poovili poovili ponnonamayi
Nee varoo nee varoo ponnona thumbi
Ee pooviliyil moham ponnin muthayi mattum
Poovayalil nee varu bhagam vangan
(Poovili poovili)
Poo kondu moodum ponnum chingathil
Pullankuzhal kattathadum chembavin padam
Inne koyyam nale chennal atham chithira chothi
Pon nellin ponmala pomutam thorum
Nee varu nee varu ponnola thumbi
Ee pooviliyil moham ponnin muthayi mattum
(poo vili poo vili)
Marivilmala mana poonthoppil
Mannin swapna poomalayil pamba theerathil
Thumba pookkal nandhyar vattam
Thechi chembarathi
Pookalam paridum poomuttam thorum
Nee varu nee varu poovalan thumbi
Ee pooviliyil moham ponnin
Muthayimattum
(poovili poovili)
Kuttanadan punchayile kochupenne kuyilale
Kottuvenam kuzhal venam, kurava venam
O.. thithithara thithithai thithai thaka thei thei thom

Varavelkanaalu venam kodithoranangal venam
Vijayashree laalitharayi varunnu njangal
O.. thithithara thithithai thithai thaka thei thei thom

Karutha chiraku vechor-arayanna kilipole
Kuthichu kuthichu payum kuthira pole
O.. thithithara thithithai thithai thaka thei thei thom

Tholviyenthennariyatha... thithai thaka thei thei thom
Thala thaazhthan-ariyatha... thithira thei thei
Kaavalam chundanitha jayichu vannu
O.. thithithara thithithai thithai thaka thei thei thom

Tholviyenthennariyatha thala thaazhthan-ariyatha
Kaavalam chundanitha jayichu vannu
O.. thithithara thithithai thithai thaka thei thei thom

Pambayile ponnolangal odi vannu punarunnu
Thanga veyil nettiyinmel pottu kuthunnu
O.. thithithara thithithai thithai thaka thei thei thom

Thengolakal ponnolakal maadi maadi vilikkunnu
Thennal vannu venjamaram veeshitharunnu
O.. thithithara thithithai thithai thaka thei thei thom

Chambakkulam pallikkoru... Thithai thaka thei thei thom
Vallamkali perunnalu... thithithara thei thei
Ambalappuzhayiloru chuttuvilakku
O.. thithithara thithithai thithai thaka thei thei thom

Chambakkulam pallikkoru vallamkali perunnalu
Ambalappuzhayiloru chuttuvilakku
O.. thithithara thithithai thithai thaka thei thei thom

Karumadi kkuttaninnu panineer kkaavadiyaattam
Kaavilammaykinnu rathri garudan thookkam
O.. thithithara thithithai thithai thaka thei thei thom

Kuttanadan punchayile Kochupenne kuyilale
Kottuvenam kuzhal venam, kurava venam
O.. thithithara thithithai thithai thaka thei thei thom (4)
-
-
-
-
-
-
-
-
-