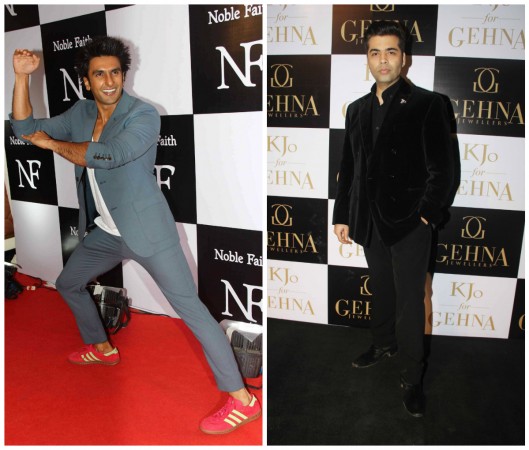 After mouthing the three magical words – "I love you" – to alleged girlfriend Deepika Padukone on "AIB Knockout", Ranveer Singh has reportedly smooched Karan Johar on the show in front of a live audience.
According to a Bollywood Life report, the unexpected act was not scripted, instead it was an instantaneous reaction from the "Kill Dil" actor. Apparently, this left Padukone in splits whereas both Johar and the audience were in deep shock.
However, going by the tweet of one of the members of the group, Tanmay Bhatt, the video to be uploaded on YouTube will sadly be a censored version of what really happened during the show. "Sadly, it will also be a slightly censored version because we're not ready for an uncensored roast to be let loose on the Indian internet," he posted.
Johar, who almost always has witty replies handy, was reportedly quick to respond to the jokes that were being made on his NRI movies. Additionally, the smooch episode was taken very sportingly by the filmmaker and took jokes that followed in his stride.
Filmed on Saturday, the show was an unalloyed grilling session of which Singh and buddy Arjun Kapoor were actively a part of. Meanwhile, Johar, Rajeev Masand and Raghu Ram played the roastees. The "AIB" boys -- Bhatt, Ashish Shakya, Gursimran Khamba and Rohan Joshi – who are known for their scathing wit, had a field day as they hurled inappropriate jokes at the duo, which while they took in the right spirit. Alleged girlfriends of the stars, Padukone and Sonakshi Sinha also attended the show and were reportedly spotted laughing from start to finish.
Interestingly, since it was a ticketing event, "AIB" raised a mammoth amount for charity from the show. "We raised over 40 Lakhs for charity last night. Thanks everyone for buying a ticket," tweeted Bhatt.