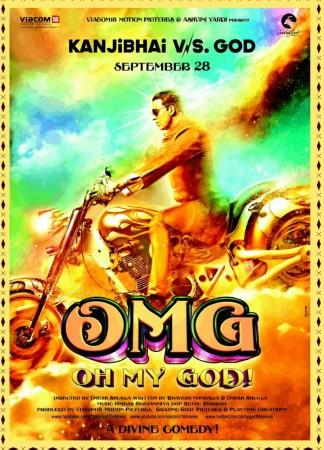 "OMG Oh My God!", an adaptation of Gujarati play "Kanji Virrudh Kanji", is directed by Umesh Shukla with Paresh Rawal in the lead role.
The Gujarati play itself was adpoted from the film - "The Man Who Sued God."
Paresh Rawal and Akshay Kumar co-produced the film besides essaying the lead roles in the movie. The film questions the existence of God and geniuses of proclaimed agents' (godmen) role in the society.
The film critics have termed the movie as a bold take on the prevailing superstitious beliefs on the pretext of God but points out several slake loose-ends.
Here's is what film critics have to say about 'OMG Oh My God!."
"The film makes a compelling argument against the commercialization of religion, but the tone of the film is so shrill, the approach so preachy, you feel like you're being tied down and forced to listen to a sermon for two-and-a-half hours," writes Rajeev Masand of CNN IBN.
"Still there's much to enjoy here, including many of the witty dialogues, and particularly Paresh Rawal's robust performance as the stubborn non-believer on a determined mission. Akshay Kumar, shot mostly in soft focus, a bright glow emanating from his mug, postures and preens throughout, allowing his co-star to do all the heavy lifting here," he adds. "In a sea of dumb Bollywood comedies (many starring Akshay Kumar himself), this one at least starts off a debate."
Taran Adarsh of Bollywood Hungama said that "OMG OH My God!" has all the elements that make a movie work. "A deserving watch!" He also suggest the audience to be cautious as Paresh Rawal will bring several touchy subjects to debate.
"Be cautioned! Paresh Rawal brings up sensitive issues in OMG - OH MY GOD!, discussing the Almighty and godmen. In fact, he mocks at the malpractices of phony godmen, takes pot-shots against superstitions and the unfounded rituals that we sightlessly pursue and hits out at the money-making industry that religion has developed into in the present day. Chances are you may find his sarcastic and scornful statements offensive," he wrote.
"OMG - OH MY GOD! is a thought-provoking adaptation of a massively successful play. A movie tackling a sensitive and an untouched subject matter, it will find its share of advocates and adversaries, but the social message the movie conveys comes across loud and clear and that's one of the prime reasons why OMG - OH MY GOD! becomes a deserving watch," Adarsh concluded.
Saibal Chatterjee of NDTV, said that the film is stuck in a morass of mediocrity.
"OMG Oh My God!", for all its flaws, has the services of the redoubtable Paresh Rawal to fall back on. The thespian pulls off a rescue act that borders on the miraculous," he writes. "As long as the accomplished Paresh Rawal, playing a wise-cracking agnostic who takes on a grotesque band of religious bigots in a bizarre legal battle to prove that God is a figment of mankind's imagination, is on the screen, OMG passes muster, and then some more."
"The film's premise is courageous no doubt, but its heart and sinews are rather weak. It seems to chicken out a tad too easily in the end," opined Chatterjee.
Srijana Mitra Das of Times of India said, "OMG is Paresh Rawal's movie - and one of his best."
"Rawal's conviction is OMG's bedrock - but its beauty comes from his dynamics with Krishna, who saves his life, educates him via sacred texts and gently instructs an annoyed housewife yelling Kanji is a nastik to eat her ice-cream before it melts," she added.
Pointing out the follies in the movie, Das wrote, "OMG's production values are not high-gloss and it sags and looks stagey at times. Importantly though, in a nation obsessed with taweezes and tonsures, fasts and fasaads, the symbolic over the sensible, OMG conveys a serious message this festive season - God is to be found in human beings. And, rather like Hindi films of an earlier age, it does so in a light and unusual way."
Shabana Ansari of DNA took a discreet stand on suggesting to the movie-goers on the rhetorical question whether it's worth watching. "See it only if you are not touchy about religion or if you have nothing better to do over the weekend!" And adds, "Watch it or miss it, it's up to you!"
"The film takes potshots at meaningless customs, blind faith and idol worship. Though the effort is commendable and even enjoyable in parts, what goes against the film is the incessant hamming on the part of both Rawal and Kumar who plays Lord Krishna. The dialogues get tiresome after a while and one ends up rolling up one's eyes every time Kumar tries to play the cool and tech-savvy God," Ansari added.
"Also, the otherwise tongue-in-cheek movie stops short of irking the minority communities and only makes passing reference to the rituals of offering flowers at dargahs and lighting candles at churches. Kanjibhai's victory is too obvious and his new-found faith in the Almighty is kind of a let-down. They can't just take away our only reason for rooting for Rawal's character, no?," said Ansari.
Director: Umesh Shukla
Star cast: Paresh Rawal, Akshay Kumar, Mithun Chakraborty, Govind Namdeo, Mahesh Manjrekar, Om Puri