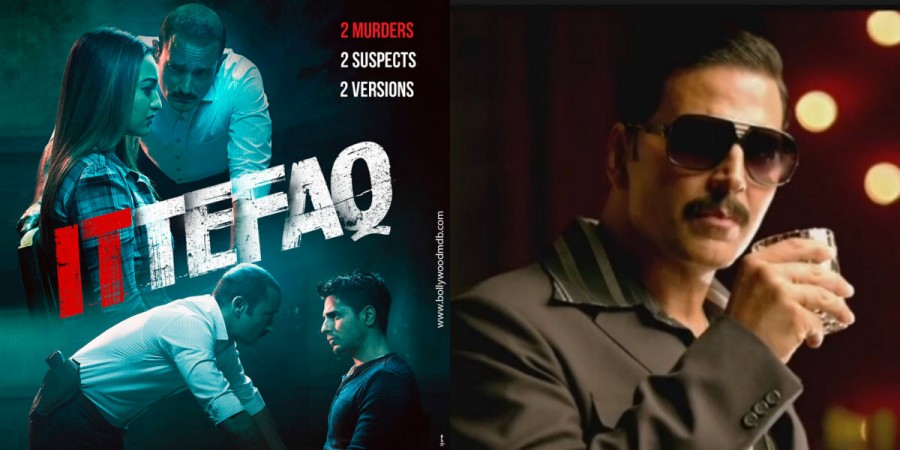 The makers of Ittefaq have started a "No Spoiler" campaign on the back of the limited promotion that they have done for the film.
Supporting the move and revealing something more is Akshay Kumar.
The Khiladi posted a video on Twitter and said: "Please don't reveal who is the killer after watching the film. It is possible that I am in this film and I might be the murderer. Don't be a spoiler and don't give out the suspense. [sic]"
That's quite a thought.
It may be noted that even Shah Rukh Khan was asked at the press conference of te film about who the killer in the film is and he said: "I am the killer in the film. I'll come in the end, in a singlet".
Lol!
Talking about the film, Akshaye Khanna said, "My father did Ravi Chopra's debut film, I am doing his son Abhay Chopra's debut film... is a lovely coincidence."
And Sonakshi said: "My father was offered the role in the original Ittefaq but somehow it didn't work out and today I am a part if the remake version of it."
KJo also shared something about Akshaye Khanna: "You said no to Qurbaan, we know how that shaped up (laughs). I'm glad you said yes this time. I thought, you might say yes, or you might say no, there is no way of gauging from your tone. I was telling someone -This dude is weird! You have a really scary tone Akshaye."
Shah Rukh Khan also spoke about the film: "What's wrongly essayed is that it's not a remake — the premise might be similar to the 1969 Ittefaq but the movie has taken a flight of its own."
Ittefaq is a remake of Yash Chopra's film of the same name, which was released in 1969 with Rajesh Khanna, Nanda and Madan Puri in the lead roles.
Directed by Abhay Chopra, the upcoming thriller has upped our curiosity level with the posters and trailer the makers unveiled recently.
Produced by Dharma Productions and Red Chillies Entertainment, Ittefaq is scheduled to hit the screens on November 3.