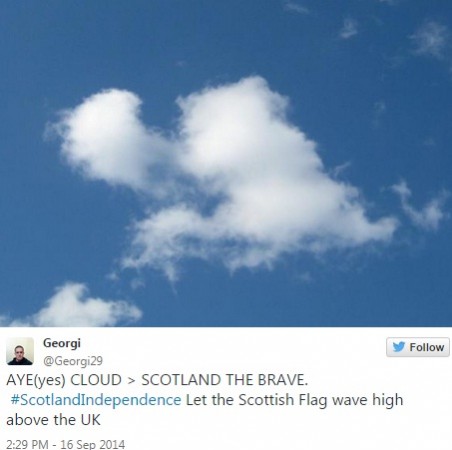 Is this an omen for how the Scottish referendum will go? Many people are convinced it is.
A peculiar-shaped cloud has everyone wondering if the heavens have decided that Scotland should part its way from the rest of the UK. The cloud was formed in such a way that Wales, England and Northern Ireland are visible, but the Scotland is missing.
With the referendum vote just two days away, the sight has not just terrified people, it has spooked many others thinking that the cloud formation is a strange divine indication that Thursday's referendum would result in Scotland being separated.
Many are calling the ominous-shaped cloud a divine signal, while others have dismissed the natural phenomenon as merely a cloud.
There is also one gentleman who came up with his own version of a picture; he claimed to be taken last month, with all the countries of the United Kingdom seeming to be present.
@MetroUK saw your Scotland-free UK cloud pic earlier. I took this one last month... pic.twitter.com/Wf4hWtcToj

— Scott Leslie (@pugzley) September 16, 2014
The 'cloud map' of Scotland missing has also mesmerised much of the UK media with The Scottish Sun going to the extent of making it appear on its front page:
And from our friends in Scotland... Scotland missing from sky 'map' on the 'aye' cloud: http://t.co/5SGcqXfogA pic.twitter.com/jwQF1sJZ9N — The Sun (@TheSunNewspaper) September 16, 2014
The grotesque sky image was spotted by 44-year-old Gillan Degnan, who took the picture after the cloud formation intrigued her.
"I was on my sun lounger when I spotted it in the sky," Express quoted Degnan, an engineer as saying.
"I thought it was a bit weird. The referendum is the talking point between everyone at the moment and I started to wonder whether it was an omen about how the vote is going to go," she said.
Meanwhile, Twitter has been buzzing on the topic:
"A CLOUD seen in Sardinia in the shape of UK without Scotland. A viable omen really," said Barbara Kaiser
"So a cloud that's shaped like the UK minus Scotland is a definite sign of what should happen in the vote? What a great theory," said another individual named 'Josh'.