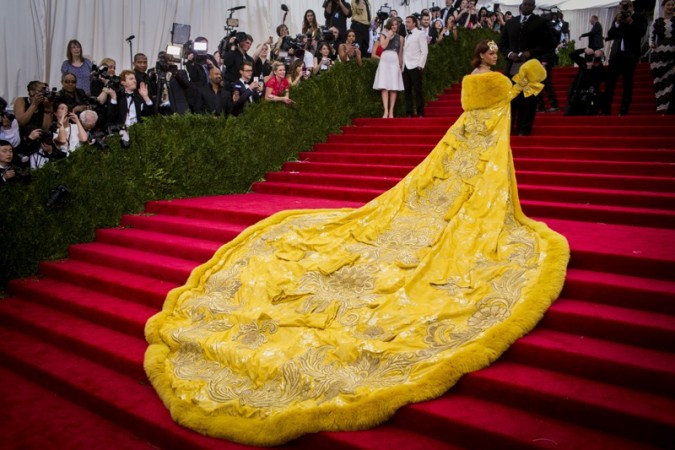 The Barbadian singer, Rihanna, arrived for the Met Gala ball in New York City wearing a bright-yellow dress designed by Chinese designer Guo Pei.
RiRi, who is known for her risky attires, however, failed to show her assets this time as she came for the event wearing quite a lot of fabric.
Following this, the cyber world went crazy, creating memes on the popstar's dress.
While many compared her dress to an omelette and condom, others spread tomatoes and other vegetables over her dress to make it look like a pizza.
Check out the viral memes on Rihanna's dress below:
Rihanna showed up like a poured omelette #MetGala pic.twitter.com/epHi49ntqb

— Ridiculousness (@WeLoveRobDyrdek) May 5, 2015
já tava demorando o bulen com a rihanna KKKKKKK #MetGala pic.twitter.com/rKkBUdHini — ㅤㅤㅤㅤ (@COSPENELA) May 5, 2015
How to make an Omelette ft. Rihanna #metgala pic.twitter.com/8itDtdDwOg

— Danny (@iseewonderland) May 5, 2015
Rihanna out there looking like a dropped banana peel #MetGala pic.twitter.com/MM1ZpGfl1o — Christina Blacuilera (@Childspleasee) May 5, 2015
Pizza a La Rihanna #MetGala Tô chorando pic.twitter.com/SA4GbRYqsY

— Renata Lins (@renahlins) May 5, 2015
Rihanna, a internet te agradece por nunca nos deixar sem um bom meme! #MetGala pic.twitter.com/D67RavewJ1 — Portal Tag it (@portaltagit) May 5, 2015
Here are all the things #Rihanna's giant yellow dress looked like on the #MetGala red carpet! http://t.co/qMD3rbIZXY pic.twitter.com/K7K7su9lPV

— Perez Hilton (@PerezHilton) May 5, 2015
Who fancies an omelette then? #rihanna #MetGala pic.twitter.com/E4m3RgD65u — heat & heatworld.com (@heatworld) May 5, 2015
Rihanna showed up to #MetGala looking like a fresh cracked egg pic.twitter.com/Qt2RRBfPxj

— Ëv (@JustDoItEverett) May 5, 2015
Rihanna looks like a yellow condom. pic.twitter.com/gJ06Tq6N0z

— ***Jaz (@jazzonce_) May 5, 2015