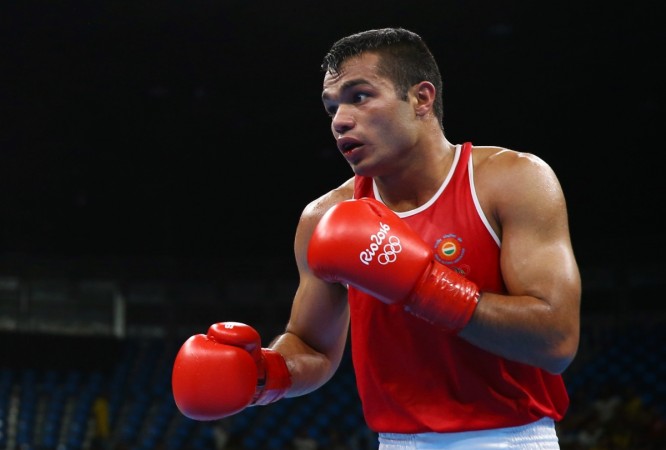 Three India boxers including Vikas Krishan, Shiva Thapa and Manoj Kumar had qualified for Rio 2016 Olympics, and none of them could return home with a medal. Vikas was a medal prospect in the middleweight category, but the boxer lost to Bektemir Melikuziev of Uzbekistan on Monday to end India's campaign in boxing.
It was always going to be a huge challenge against the Uzbek boxer, who had also won silver in the World Championships. Vikas was aware of the massive bout, which stared at him, and gave his best, but it was not enough as Melikuziev defeated the Indian 3-0.
The first round in the bout was always going to be important for both the boxers, and the Uzbek boxer got off to a great start, with some crucial blows. From there on, Melikuziev looked confident and it was almost impossible for Vikas to make a comeback.
"I'm really sorry to have let you down. I tried to clinch the issue in the first round. But once he took the first round, it was very difficult to come back, and I almost gave up. I always hoped to earn India a medal on the Independence Day but I failed. I'm sorry," Press Trust of India quoted Vikas as saying.
Vikas is one of India's best southpaw boxer, and he might have prepared well to win a medal, but dearth of quality southpaws cost the boxer this match. The Indian boxing federation should have brought in a southpaw sparring partner for Vikas to prepare him better.
"I always have lost to a southpaw, be it world championship, last Olympics or an Olympic qualifier. I've always lost to a southpaw. I did train well, but there're about five per cent southpaw boxers in India, and I'm one of them. So I don't get opponents of my standard," Vikas said.
"As I was a southpaw, I had no answer to his blows. I don't get to train with a southpaw. I've requested many times to bring southpaw."
"But I am not blaming the Federation, I lost because of my mistakes. I may have trained lesser than him."