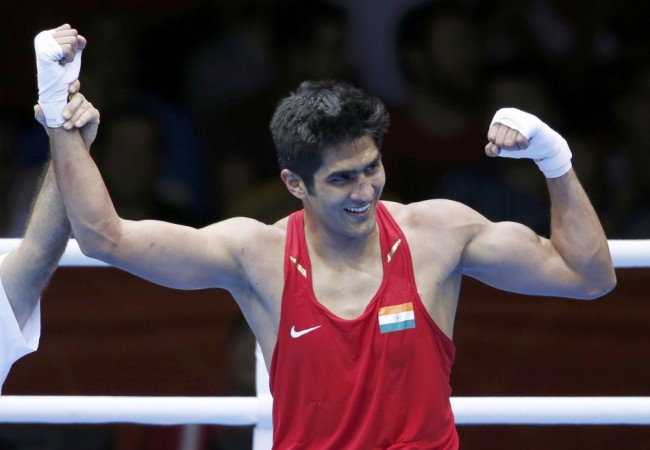 Indian veteran boxer and Olympic medal winner Vijender Singh on Friday denied having any link with a multi-scrore drug scandal that was unearthed in Zirakpur of Mohali district a few days ago.
A drug peddler, who was arrested for possession of heroin on 3 March, claimed to have links with boxers Vijender Singh and Ram Singh.
"I have nothing to do with these people. I do not know how my name has come up in this matter. I do not know these people. I was in Mumbai for some work and had left my car at NIS Patiala. Nothing was found in my car," Vijender Singh told CNN-IBN.
The police arrested Anup Singh Kahlon and Kulwinder Singh for possessing 540 g of heroin on Sunday. Upon further investigation, 26 kg of heroin worth ₹130 crore was recovered from a flat owned by an NRI businessman in Zirakpur.
"We have recovered 26 kilograms of heroin from two smugglers. This is worth ₹130 crore. We are expecting more recoveries in coming days. This is a very big scandal. These NRIs have built an international chain," SSP Fatehgarh Sahab Hardyal Mann Singh told CNN-IBN.
The accused was reported to have told the police that he supplied small amounts of heroin to the boxers.
The police also found Vijender's wife's car parked outside the flat where the consignment was recovered. But, sources said that no drugs were found in the car.
Following claims by the drug peddlars, police will question Vijender Singh, who is presently serving as a Deputy Superintendent of Police in Haryana. They will also interogate Ram Singh, also a police officer in Punjab, before taking any further action.
Kulwinder and Khalon, a truck driver in Canada, will be produced before a court in Fathegarh on Friday.