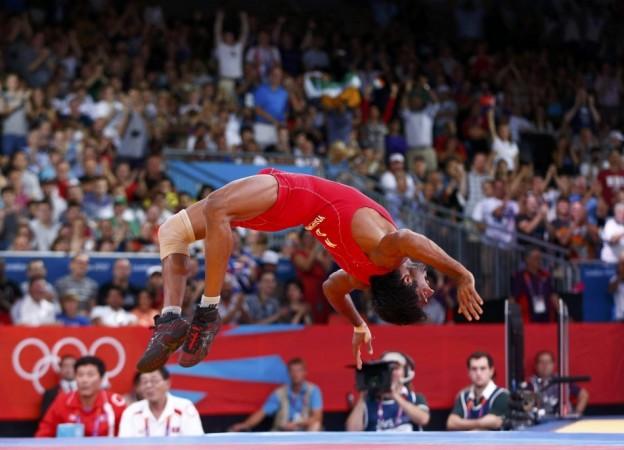 International wrestler Yogeshwar Dutt raised India's hopes at the London Olympics by adding a bronze to the nation's medal count on Saturday evening.
The 29-year-old Indian grappler, who started his training at the age of eight, took over two decades of hard practice and efforts to realise his Olympic dreams. Dutt, who by profession is a police officer in Haryana, narrowly missed a podium visit four years ago in Beijing. This time around, he was determined to ensure that glory doesn't evade him.
His victory in the repechage bout brought a much-needed relief to Indian Olympic fans, following his defeat to world champion Besik Kudukhov of Russia in the pre-quarterfinals.
By sheer determination and unflinching stamina, Dutt fought three bouts in quick intervals at the repechage rounds and five bouts on Saturday to clinch the medal.
Dutt's victory is India's first medal in the wrestling event at the Olympics. Now the limelight is on 2010 Commonwealth Champion Sushil Kumar, who is all set to take on Turkey's Ramazan Sahin in the qualifying round on Sunday.
For Indians anticipating a medal from Kumar has a significant reason. Besides winning perhaps the last medal for the country, he can set a new record of becoming the first Indian to win successive medals in a row at the Olympics. He bagged a bronze in the 2008 Beijing event.
With the 2012 Olympics coming to an end in a few hours from now, India has pinned high hopes on Kumar to grab an elusive and first gold medal for the nation.