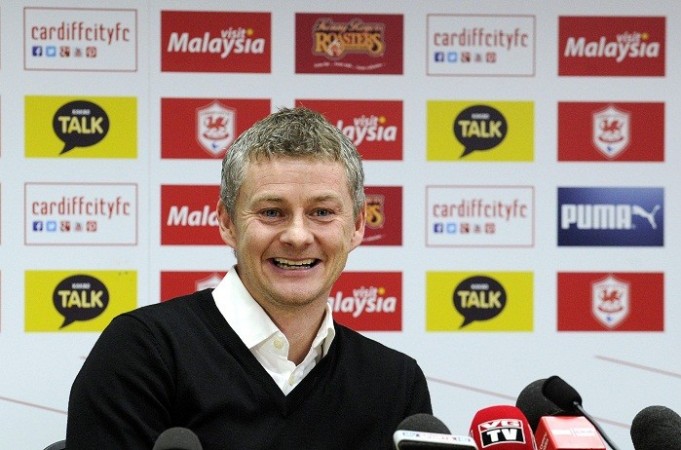 For most Cardiff fans the more interesting aspect in the first half of their English Premier League match at Arsenal on New Year's Day was constant visuals of Ole Gunnar Solskjaer sitting in the director's box and having a seemingly enchanting conversation with the can't-believe-he-fired-Malky-Mackay owner Vincent Tan.
While the Mackay sacking was quite unjust with the Scot doing exceedingly well to take Cardiff to the Premier League, and then ensuring they held their own in the big league, in Solskjaer the Welsh side now have a true legend of the Premier League, a man who made coming off the bench and scoring a late goal for Manchester United an art.
Even rival fans found it difficult not to like this always-smiling, endearing striker from Norway.
Solskjaer started out his coaching stint with Manchester United, before taking over at Norwegian club Molde, leading them to back-to-back league titles.
For someone who has been known as a Premier League player, it was always going to be a priority to return to England as a manager as well, and when the opportunity came along, even with the temperamental Tan at the forefront, it was an opportunity that Solskjaer could not reject.
"I feel lucky to be back in the Premier League," said Solskjaer, who signed a rolling contract with Cardiff. "I had to have a talk about it with the family obviously but it is a great opportunity.
"Short-term the most important thing is getting points and performances, but longer-term, finishing above Swansea must be an aim," he added with a smile.
Having played and worked under Sir Alex Ferguson, it was inevitable Solskjaer would take the legendary United manager's advice, and the 40-year-old rubbished reports that Ferguson had asked him to turn down the offer from Cardiff, owing to the perceived interference from Tan.
"He has wished me the best and given me some good advice as he always does. I had a good conversation with him," Solskjaer said. "It is absolute nonsense [that Ferguson told me to not take up the Cardiff job].
"They have convinced me they want me to be in charge of the football. Communication and dialogue is key to any relationship. Everything isn't what it seems from the outside. Don't always believe what is in the press."
Being a striker by trade, Solskjaer was always going to be an attack-minded manager, and the Norwegian hopes his style will endear himself to the Cardiff fans.
"I've always wanted to come back to the Premier League and after speaking to [chairman] Mehmet [Dalman], he convinced me to come," Solskjaer added. "The passion of the fans and around the area for the club is a fantastic challenge. Cardiff have shown in the last three or four years that they are ready for the next step.
"One of the factors that intrigued me most was the passion of the fans and the support they give their heroes. Every single Saturday they come out and scream their hearts out and if you want to manage a football club you want that passion. I'm looking forward to convincing them that I am the right man to take them forward.
"My brand of football will hopefully make them proud of the way we play football. My brand is forward-minded. Forward passing, forward running. I want to attack. I want the players to express themselves."
Solskjaer also added he had already met with his new players and was impressed by their commitment to surviving in the Premier League in their first season back in the top-flight for a long time.
"We need continuity and stability," Solskjaer said. "I've had numerous calls from agents and staff who want to come and work for this great club but I will take my time [on making new signings in the January transfer window].
"I have met the players, we had our first chat. They are a great bunch of lads. I am lucky. I am inheriting a great squad of fantastically hard-working talented young players who have been used to winning games in the last four years.
"They are playing in the Premier League now and that's the best time of your life. They have to enjoy it. I wish I was 25 again and playing in the Premier League. I hope to inspire and motivate them and improve them as players and as a team."