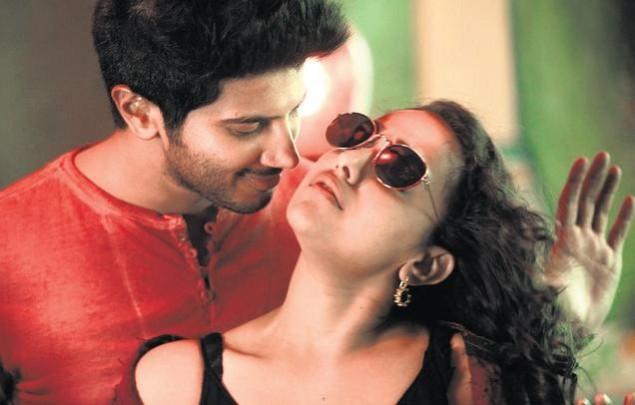 The music of "OK Kanmani" - composed by AR Rahman - was finally released on 4 April, 2015. The songs, as expected, were a perfect blend of high energy beats and soulful tunes that create a tranquil mood.
The fresh music of the album is heading to be one of the best from the team comprising AR Rahman, Mani Ratnam and Vairamuthu.
The album has a total of nine songs, each unique in its own way and is a treat for listeners.
Here are the reviews of "OK Kanmani" album by critics (along with song and its lyrics)
"Kaara Aattakkaara"
Singers: Aaryan Dinesh Kanagaratnam, Darshana, Shashaa Tirupati
Lyrics: Aaryan Dinesh Kanagaratnam, AR Rahman, Mani Ratnam
"The first song in the album welcomes you in all freshness. For all those looking forward to the album, wanting to catch as much as you can from the trailers and teasers, this is a familiar track. The song begins just the way it did in the trailers, backed by gentle string strums. And what awaits further is a bout of rap brimming with vigour. The song scores high in the booming beats that want you to get up and shake your hips. Varying vastly in momentum between the song and rap, the song also shows variation in tempo, midway. It includes whispers of dialogues too. In all, the first glimpse, is sure to make you run it on loop, for its enlivening new feel." – Indiaglitz
"The album starts off with the familiar 'Kaara Attakkara' which has already created quite a buzz. The entire track speaks of freshness in brilliant style. The recurring hip-hop beats and rap section add an extra tinge of fun. Flawless chord progression and impactful chorus are the other assets."- Behindwoods
"Aye Sinamika"
Singers: Karthik
Lyrics: Vairamuthu
"Next one in line must also be a familiar tune, given the latest teaser. Get ready to lose yourself in the magic of ARR-Karthik combo, on a melody. This number, written in pristine Tamil, has minimalistic lyrics for its length at six and a half minutes, but greats you in warmth, complete with the emotion of a love-struck charming man. The song graduates to sound from studio to concert-level, through its length, with all the variation worked out predominantly on guitar, intelligent flute and a wide range of beats. Get ready for a refreshing experience with this romantic solo." – Indiaglitz
An extremely laid back trance like number with the ever sweet sounding Karthik, redefines the word modern classiness! The mild guitar strums, piano touches and timely bass work just add the icing on the cake in Rahman's style. -Behindwoods
"Paranthu Sella Vaa"
Singers: Karthik, Shashaa Tirupati
Lyrics: Vairamuthu
"The first non-thematic duet of the album is a peppy number. The song opens in Shashaa's voice, as though it is a melody. What adds colour to this track is the intelligent choice of background - for a quarter of the length of the song, what adds volume to the voice in fore is humming in male voice, on a three-scale gradient, in addition to a rattling roll. Almost half way through, rendition turns carnatic, and then graduates back to peppy notes, with the addition of Karthik's voice, thus ending in a chorus. Towards the end, there is a sharp increase in violins for background, and the song trails in the instrument's notes." – Indiaglitz
"A funky number with Reggae rhythm and mellowed bass section. Extremely casual singing that creates an impact. A clever blend of Indian melody and chill out lounge music, it is Chennai meets a remote island in Cuba, in terms of music." - Behindwoods
"Mental Manadhil"
Singers: AR Rahman, Jonita Gandhi
Lyrics: AR Rahman, Mani Ratnam
"Welcome to the song that left you going bonkers over it, for weeks now. The male version, released as a single track, is the same as the one we are hitched to, all along. Opening in keys, graduating to a racy run, booming from one ear to another... Words fall short to describe the exhilarating experience! Rendered in Rahman's mesmerising voice, joined in gently by Jonita's, 'Mental Manadhil' is a haunting, youthful number, filled with beats, keys and a lot of josh." – Indiaglitz
"The heart and soul of the album, with unpretentious vocals of A.R.Rahman and Jonita. The pumping rhythm section provides tremendous energy. Rahman and Mani collaborate for the first time on lyrics to create some magic" - Behindwoods
"Naane Varugiren"
Singers: Shashaa Tirupati, Sathya Prakash
Lyrics: Vairamuthu
"Next in line is inclined to carnatic, in rendition. Taps lead way to opening the song in female voice. This number comes across as one in which a woman, who is forthcoming and is lost in thoughts. Though minimal, lyrical quality is in pure Tamil, and the song on the whole, uses many instruments. Usage of violin is worth mentioning, given that it is this orchestration, that primarily adds volume as background. Other instruments used include drum pad, Mridangam and extensive keyboard. The minimal inclusion of Sathya Prakash's voice adds an extra edge to this deep number." – Indiaglitz
"A breathtaking fusion sung by Shashaa Tirupati. After ages, Rahman explores the amazing Carnatic Raaga Kaanada (Darbari Kaanada as Hindustani counterpart) used in Roja for Puthu Vellai Mazhai. The rhythm section is replete with sequencing as well as mridangam strokes." – Behindwoods
"Theera Ulaa"
Singers: AR Rahman, Darshana, Nikita Gandhi
Lyrics: Vairamuthu
"This track is a thematic number. The song is racy, with all the invigorating beats and instruments in use. Most part of the song is rendered in gently echoing, booming chorus on peppy notes; a portion, almost midway, is rendered in carnatic too. The song is so refreshing that it fills your heart and mind like a rising wave, coming at you to chill your feet and soul." – Indiaglitz
"It is time to shift gears and strike a new balance between feel good melody and trendiness. Rightfully, 'Theera Ulaa' has everything one can ask for- electronic vocals with a tinge of classicism and never say die chord progression! The master stroke arrives in the form of
carnatic rendition in the midst of digital sequencing!"- Behindwoods
"Mental Manadhil" (Female)
Sinegrs: Jonita Gandhi
Lyrics: AR Rahman, Mani Ratnam
"And here's one to celebrate the thrill of love, in a woman's own way. The female counterpart of 'Mental Manadhil' is similar to the male version, differing minutely in the gender-specific lyrics. Rendition is also slightly different, heavier and more intricate. Unlike the male version that is supported predominantly by instruments, a lot of volume to this song is added by the male chorus that flows all along the song. Beyond these differences, the experience is just as enthralling as the male version." – Indiaglitz
"The most effervescent track of the lot, sung by the supremely talented Jonita Gandhi in her own unique style. While Rahman is high voltage, Jonita explores the melodious dimension to perfection." - Behindwoods
" Malargal Kaettaen"
Singers: KS Chithra, AR Rahman
Lyrics: Vairamuthu
"The next song to greet you is a lovely carnatic bliss of six minutes, praising dedication. The song opens in Chithra's voice, backed initially only by Tambura, and then the sole beat support rolls in Ganjira. The song is backed by bass orchestra that graduates to a theme with the addition of flute, almost midway. The song also has a dedicated thirty seconds to swara jathi. Towards the end, the song has male voice joining the female's, for a chorus carnatic rendition." – Indiaglitz
The album arrives to a fitting and deserving pre-finale with a classical song by the legendary Chitra. Vintage flute which was so common in Rahman's compositions back in the 90s. A very special mention for Vairamuthu's poetic lyrics as well. Interesting to see a mild flavor of Raag Maand - a personal favorite of Rahman himself! - Behindwoods
"Maula Wa Sallim",
Singer: AR Ameen
Lyrics: Traditional
"Get ready to greet the cute voice of ARR's little champ, in his first Kollywood experience. The song rendered entirely in Arabic traditional verses, is backed by gentle beats and bass orchestra; further volume and variety is added solely by means of occasional chorus rendition. Complete with the innocence typical of a kid, Ameen is sure to steal your heart!" – Indiaglitz
"A traditional Islamic composition with the innocence of A.R.Ameen. A relaxing little presentation with neat bass work and breezy chorus." – Behindwoods