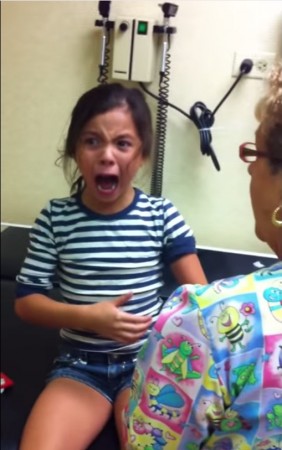 A video, which shows a young girl shouting, "Oh My God, Oh My God," while getting a flu shot, has gone viral on YouTube.
Michaela Goetze deserves an Oscar on her award-winning reaction when she shouts, squeals and squirms in fear as the nurse is about to give her a flu shot, Mail Online reported.
The little girl gave thousands of expressions in 90 seconds as she was terrified in the YouTube video. It has received 1.2 million views until the time of reporting.
On the other hand, her younger brother couldn't control his laughter and he giggles the whole time keeping his hands on his mouth to cover it.
Michaela gets horrified even before the nurse begins to inject her. At a point, she even pushed the nurse away and was about to faint at the end.
The video has the voice of the mother saying to the nurse, "Did you watch him, he didn't even know what was happening," referring to her son laughing.
Meanwhile, the girl did not stop screaming, "Oh My God, Oh My God," till the end and the nurse, somehow, managed to give her the shot.
In the end, the nurse jokingly said, "I can't wait 'til you have a baby."
The video shows how the poor nurse tries to handle the over-excited girl and tries to calm her down. The hilarious part was that Michaela was laughing, criying and screaming at the same time.
Watch the video here: