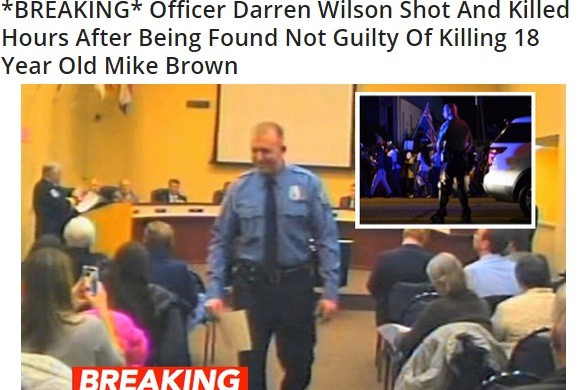 Only a few hours after officer Darren Wilson was declared not guilty by Ferguson's grand jury over the Michael Brown's shooting case, the white police officer has become a subject of death hoax.
The false news, published by a parody site, claimed that officer Wilson was shot and killed by a gang hours after the verdict. The news is being widely consumed on online platforms, even as anger is growing in the area over the decision not to indict the officer.
"Open leaving the courthouse, Darren Wilson travelled a few miles with security before being ambushed by a group of about 21 armed men, before being shot 4 times and killed," the parody news site Huzlers.com said in its fake news piece. "The assassins did not cause any harm to anyone else but Officer Wilson."
The hoax news site further claimed: "The FBI is currently running a large manhunt for the 21 men. If you live in the Ferguson area, it is advised you stay in your homes for safety. We will bring you more information on the assassination of Officer Darren Wilson soon."
The fact of the matter, however, is that officer Darren Wilson is fine and very much alive, although the grand jury's decision not to indict him has sparked wide-spread protests in the area.
The news that the office is dead has been consumed by quite a few naive online users:
Officer Darren Wilson Shot And Killed Hours After Mike Brown Verdict #MikeBrown #Ferguson http://t.co/Q0rp2oB3zL pic.twitter.com/8eQy6vfYWg

— THE GOD KING (@folksrtalking) November 25, 2014
Huzler.com's tweet with the fake news was also retweeted more than 110 times by twitter users as of Monday night.
The 28-year-old officer was accused of firing shots in an August confrontation with an unarmed 18-year-old Michael Brown. The case ignited a blaze of controversy and sparked widespread protests and unrests.