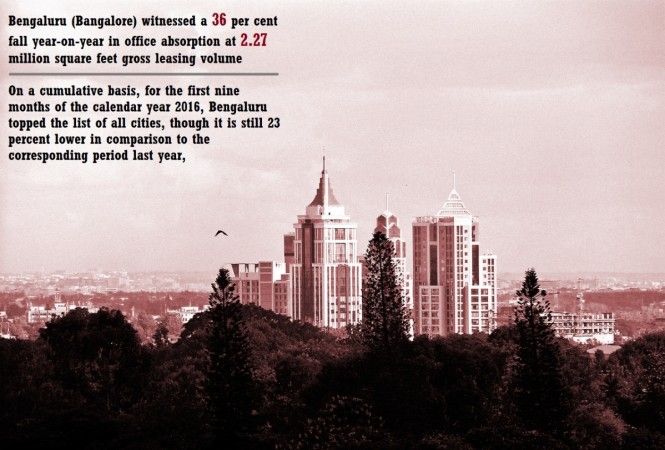 India Inc. went slow on occupying office spaces during the September quarter, resulting in a fall of 7.6 percent in gross leasing volume at 9.6 million square feet, based on the data available for seven major cities, including Mumbai, New Delhi, Bengaluru and Pune. On the positive side, business is likely to pick up, especially in South Indian cities, according to real estate consultancy Colliers India.
"Vacancies are set to decline in prime commercial corridors on the back of rising demand momentum, especially in Bengaluru, Pune and Hyderabad," Surabhi Arora, senior associate director at Colliers India, said in her report.
The demand revival will be led by expansion strategies of companies in the e-commerce, healthcare and technology space, notwithstanding excess supply in select cities such as Bengaluru, Hyderabad and Pune, she added.
Bengaluru (Bangalore) witnessed a 36 percent fall year-on-year in office absorption at 2.27 million square feet gross leasing volume.
"Prominent deals in this quarter included a 500,000 sq ft lease by ABB Global and 200,000 sq ft lease by Infosys," Divya Grover, senior manager and author for the analysis of Q3 data for Bengaluru.
On a cumulative basis, for the first nine months of the calendar year 2016, Bengaluru topped the list of all cities, though it is still 23 percent lower in comparison to the corresponding period last year, Grover added. While IT/ITeS will continue to be the driving force, there is also a demand for co-working space.
"We are relatively confident about Bengaluru's office market outlook. However, the city may not witness double digit transaction volume this year," Grover summed up.
In Chennai, which saw 1 million sq feet space being occupied during the September quarter, the top clients included the World Bank and Societe Generale, French multinational banking and financial services company.
The overall office absorption in the first nine months this year stood at 28.26 million square feet, Colliers India said.