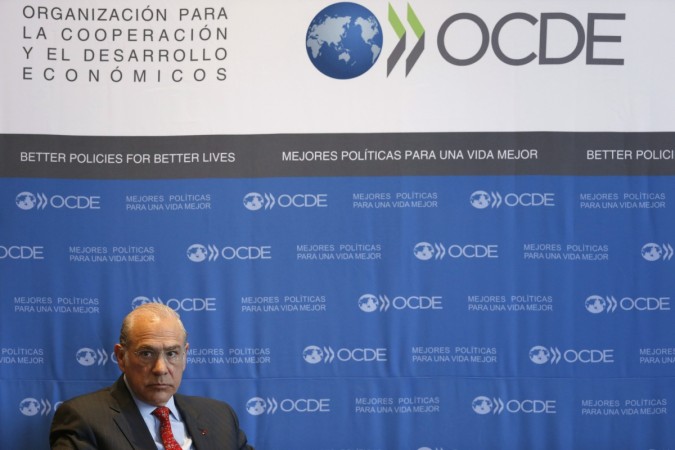 The Organisation for Economic Co-operation and Development (OECD) has revised down its growth forecasts for the global economy due to temporary slowdown in the US economy and lack of pick-up in investments by businesses and governments.
"Global growth is projected to strengthen in the course of 2015 and 2016, but will remain modest relative to the pre-crisis period," the OECD said.
The agency now expects the world economy to grow by 3.1% in 2015 compared 4% growth estimated in March. It revised down its 2016 growth forecast to 3.8% from an earlier estimate of 4.3%, Livemint reported.
"The world economy will strengthen gradually to approach its past (pre-crisis) average pace by late 2016," it said.
The development agency has slashed its 2015 growth estimate for the US economy to 3% from 3.1%. It expects the world's largest economy to grow by only 2% next year, sharply down from a previous projection of 2.8%.
The Paris-based economic group expects a strong dollar and violent North American winter to have played a spoilsport for the US economy in the March quarter this year.
"Activity should regain steam, with aggregate demand propelled by continued employment gains, wealth effects from rising asset prices, and the boost to purchasing power from lower oil prices," OECD said.
OECD also predicts a slower growth for China and says the economy to post a below 7% growth in this year and next. It projects the world's second largest economy to grow by 6.8% in 2015 and 6.7% in 2016.
OECD, an international economic organisation of 34 countries, has kept its growth outlook for the eurozone economy unchanged for this year.
However, it sees growth to pick up slightly in the 19-nation monetary union next year on the back of cheap crude oil prices, a weaker euro, improved financial conditions and additional stimulus spending.
The major risk factors highlighted by the OECD for the global economy include a fresh decline in oil prices; Greece failing to reach a "satisfactory" deal with its creditors, a "hard landing" of Chinese economy and a "disorderly exit" by the US central bank from its zero interest rate policy.
OECD expects the oil prices to "stabilise above current levels."
Oil exports from Iran are likely to put pressure on the prices once the sanctions are eased on the country, according to OECD.