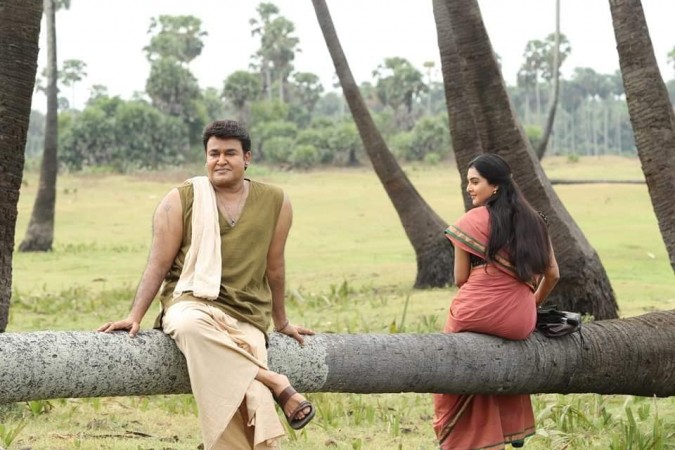 The full movie of director VA Shrikumar Menon's Odiyan starring Mohanlal, Prakash Raj and Manju Warrier has been leaked on torrent sites and its free download will affect its box office collection.
Odiyan is a multilingual movie that is made in Malayalam and has been dubbed in Telugu and Tamil. Some miscreants, who are notorious for their alleged activities on the internet, have released the full movies of its Malayalam and Telugu version even before their evening shows began on its opening day.
The notorious gang seems to have recorded the full movie of Odiyan during its screening in a cinema hall on the first day of its release. The gang is offering three different prints (of different sizes from 2.3 GB to 200 MB) of both Malayalam and Telugu versions on its websites for free download. These pirated copies are expected to spread to other torrent sites, if they are not taken down from internet by its makers.
Odiyan is a fantasy thriller film that is based on the legend of the Odiyan clan, who in Kerala folklore are men who have shape-shifting abilities and can assume animal forms. Mohanlal has played the title role, while Prakash Raj and Manju Warrier appeared in the film, which was produced by Antony Perumbavoor under the banner Aashirvad Cinemas.
Its promos had generated a lot of hype and curiosity about Odiyan. But the movie has failed to live up to the expectations of the film goers, who say that it will be a good entertainer, if you go to watch it without any expectations. However, this word of mouth is like to toll on its box office collection and it may also force some viewers, who don't want to lose money on average film, to download its pirated copy.
Odiyan has reportedly been made with a whopping budget of Rs 50 crore, which is the highest amount for any Malayalam film. Its theatrical rights have reportedly been sold for more than Rs 30 crore. The stakes are really high on the movie and recovering the distributors' investment is going to be tough task for it. However, free download of the full movie is likely to eat away their share to some extent.
We at IBTimes India, are strictly against piracy of any film and we condemn people who support it. We always stand by the film industry, which has suffered huge losses due to piracy. We also request you join us in the fight against piracy.
Say no to piracy and encourage filmmakers by watching films in cinema halls only.