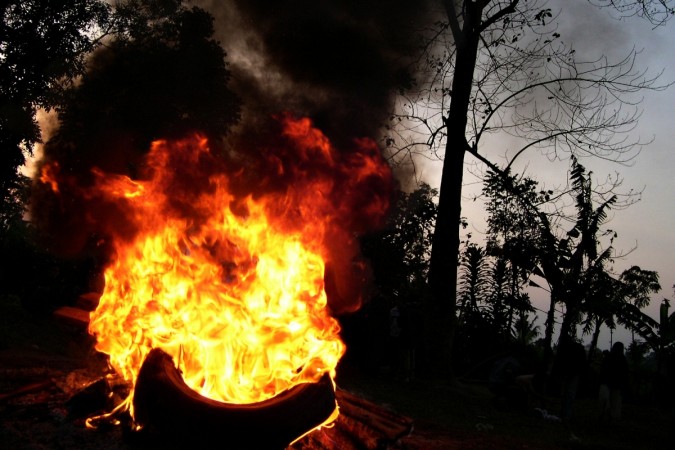 A 12-hour bandh called by the Congress party in Odisha on Tuesday over the Mahanadi river dispute with Chhattisgarh affected normal life. At least 3,000 Congress workers were detained during the bandh, said Odisha Pradesh Congress Committee (OPCC) chief Prasad Harichandan.
Congress activists ransacked Banarpal Tehsil and block offices in Angul, Odisha TV reported. They also damaged Barrage Division office at Anandapur and Ghasipura block office in Keonjhar district. The party workers staged rail roko at Puri railway station and blocked roads at Atharanala and clashed with the police at Master Canteen in Bhubaneswar, while others staged a dharna protesting against police excesses.
"The struggle of Congress party is for every drop of Mahanadi water," said Harichandan.
"We express regret for the inconvenience caused to the citizens during bandh," Leader of Opposition Narasingh Mishra.
In retaliation, the Chhatisgarh Janata Congress (Jogi) held a "silent dharna" in Raipur to protest against Odisha Bandh on the Mahanadi River issue.
Hospital and ambulance services were functional on Tuesday.
The OPCC said that the support for Odisha Bandh was "massive" and called it a "huge success and largely peaceful."
Members of the women's wing of the Congress and Mahila Congress staged a demonstration in front of Odisha Secretariat's main gate in Bhubaneswar on Tuesday. Previously, workers had clashed with police while attempting to enter the Secretariat through the back gate forcefully.
"The firm warning to the States will sort the issue out. We believe the Chhattisgarh government will think over the issue," OPCC chief Prasad Harichandan told reporters on Monday.
The main Opposition in the state assembly, the Congress, has blamed the BJD in Odisha and the BJP in Chhattisgarh for the dispute over the Mahanadi river. Chhattisgarh wants to build a barrage on the river, which could affect the flow of water to Hirakud dam in Odisha. The dam is one of the sources of hydroelectricity to the state. It is capable of generating 307.5 MW, but the barrage on the river could reduce its ability to produce electricity.
"To patch up between the different groups in the Congress party, Harichandan has called for a bandh. They think people of the State are blind and they don't know anything," BJD vice president Surya Narayan Patro told reporters.
The BJD and the BJP have slammed the Congress for the bandh saying that it is a political stunt to hide their in-fighting.
Congress and BJD workers pelted stones at each other at Barapada in Keonjhar district on Tuesday.
The bandh was not spread to Cuttack as the city had observed a bandh on Aug. 12.
Congress bandh throws #Odisha out of gear https://t.co/8BwJXNrJWs pic.twitter.com/gpwx5O52mj

— OTV (@otvnews) August 16, 2016