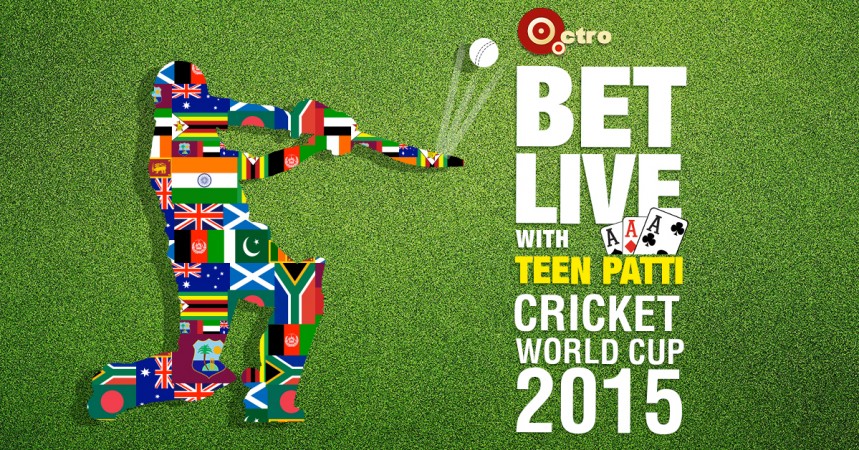 The Cricket World Cup 2015 is just around the corner and keeping that in mind Octro, the developer of Teen Patti Indian Poker game, has added the "Cricket Betting" feature into the game. The feature will be available in the new update of the Teen Patti game.
Teen Patti is a three-card game similar to other casino games like Poker, Texas Holdem Poker, Flash or Flush, Three-card brag. Teen Patti is played LIVE with millions of real players from around the world, or with your friends on Private Tables.
Players get to bet their current virtual Teen Patti chips on the Cricket World Cup matches and win big by betting on either or both teams. Building on to the World Cup excitement, the game feature will ensure that the adrenalin levels of cricket and Teen Patti fans remain high throughout the tournament. The betting is not real (does not involve cash at all). It's only virtual currency, no real money is used in it.
On the launch of this exciting addition to the game, Saurabh Aggarwal - Founder & CEO of Octro Inc. - says, "We are thrilled with the response of Teen Patti users, who love our games. It's important to innovate on a regular basis to ensure our users are engaged and have something interesting to look forward to. The Cricket Betting feature has been added for the Indian market since the game is in our blood and veins, and we can swear by it. Cricket unites our country and this feature will only add to the fun of it without actual monetary transaction."
Cricket fans can bet on the matches from the comfort of their homes or while on their way to the cricket stadium, allowing them to whet their betting appetite whilst refraining from real money betting thus, making the entire experience enjoyable and stress-free. Moreover, the cricket betting feature will provide social involvement since a player-cum-bettor will be able to see his friends' bets – the amount they have bet and on which teams, as well as a summary of their friends' winnings, which will add to the fun of the game.