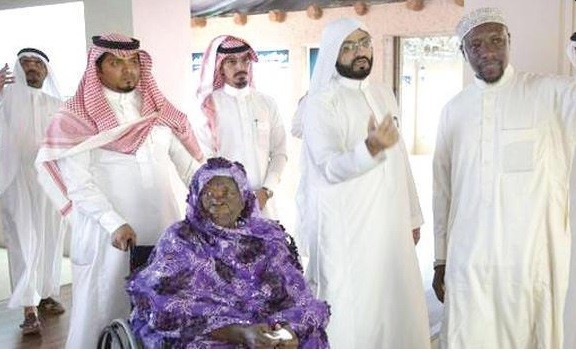 US President Barack Obama's paternal grandmother Sara Omar was in Saudi Arabia this week to visit the holy city of Mecca for Umrah, a sacred pilgrimage in Islam.
The 94-year-old, visited the kingdom with her son and grandson, and attended an exhibition on the life of Prophet Muhammad.
She reportedly said the Saudi exhibition reflected "moderate teachings of Islam".
"I am very happy to visit this exhibition, which is a good example for the propagation of Islam in a modern way, supported by scientific and authentic documents," she said, according to Arab News.
While Omar's visit was not an unusual one, it sparked some discussion on Twitter, especially around Obama's religion, which has been speculated under conspiracy theories in the past.
Obama is a Christian, and his late father, a Kenyan, was a Muslim
Obama's grandma performs Umrah But Obama is Christian http://t.co/tZfrwLrsor

— TIMENOUT (@TIMENOUT) April 24, 2015
At least one Obama makes Saudis happy: President's grandma comes to Mecca, praises Saudi for spreading correct Islam. http://t.co/vxuZ51XVUY

— Yaroslav Trofimov (@yarotrof) April 23, 2015
How incredible!! Shhh don't tell the Republicans Obama's grandma arrives for Umrah | Arab News: http://t.co/2KlXWmJJex via @Arab_News — Asma (@LibyanBentBladi) April 24, 2015
Obama's grandma arrives to Mecca for Umrah (minor pilgrimage), Let the conspiracies about Obama begin! http://t.co/EppkyYSt0T

— Hussam Ayloush (@HussamA) April 23, 2015
Obama's grandmother makes pilgrimage to Mecca: Remember back in 2008, when Obama's Kenyan grandmother was a Ch... http://t.co/tDT5wlxbbe

— Pamela Geller (@PamelaGeller) April 23, 2015