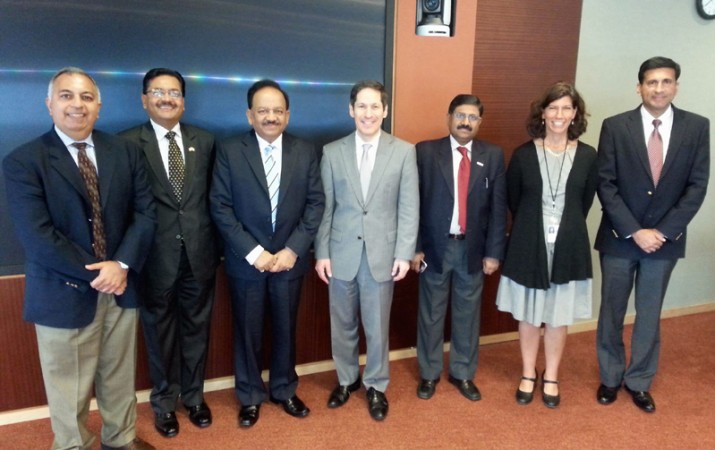 India will soon come out with its new health insurance programme, which is partially inspired by ObamaCare, stated Union health minister Harsh Vardhan in San Antonio, Texas on Friday.
Harsh Vardhan was addressing delegates at the 32nd annual convention of the American Association of Physicians of Indian Origin (AAPI). The minister said that India is preparing its blueprint of health insurance programme, which is inspired by ObamaCare project.
ObamaCare is USA's health insurance project that covers all its citizens.
Harsh Vardhan also sought the help of Indian doctors in the US in drafting India's health insurance programme.
"The Prime Minister (Narendra Modi) has authorised me to come up with a brand new policy soon. I need your help to write this all-important document," a government statement quoted the minister telling the delegates.
Harsh Vardhan hoped the insurance programme of India would become the world's largest universal health insurance programme when it is implemented.
The minister also read out a written statement from PM Modi to the Indian diaspora of medical professionals. Modi, in his statement, underscored the need for all citizens to involve themselves in the national endeavour for 'healthy India'.
"It is my firm belief that our focus needs to go beyond health insurance. The way ahead lies in health assurance. We need to focus on preventive healthcare where public participation has a major role to play," the PM stressed.
AAPI is a professional body of physicians of Indian origin. It has a membership of over 52,000. AAPI works through 138 local chapters, speciality societies and alumni associations. AAPI assists Indian doctors in the country to achieve excellence in treatment methods, training and research.
In January 2013, Modi, in his capacity as Chief Minister of Gujarat, had addressed the Indo-US Health Summit organised by AAPI in Gujarat.
Swasth India portal
Harsh Vardhan named specific sectors where AAPI members could contribute, like accepting teaching assignments, sharing knowledge on telemedicine, lending their expertise in fighting disease, helping develop model primary health centres etc.
The health minister also unfurled the "Swasth India" portal which - apart from showcasing medical advancement and recommending panacea for the benefit of Indians - would facilitate online permission for Indian American doctors to serve in the areas of their choice in India.
"Swasth India" would make it possible for any US-based Indian doctor to select the areas they wish to serve in India, seek and receive formal approval from Medical Council of India (MCI) on their qualifications, and address all other government issues within 15 days.
"Before leaving on this trip, I had written to Medical Council of India (MCI) that existing bottlenecks should be eased and if permission is held up beyond 15 days, then it should be deemed automatically granted," Harsh Vardhan said. The president of MCI, Dr Jayashreeben Mehta, was also present at the event.
Harsh Vardhan's theme "2020: Vision for Healthcare in India" drew warm appreciation from the audience. He stressed that under Prime Minister Modi's overarching leadership, health policy making and its implementation would not be the monopoly of the government but would be guided by the experience of hundreds of experts, who will be urged to bring solutions to local problems.
"For the first time we have a Prime Minister who is committed to serving every mother and child, every Indian young and old, with free and clean hospitals, generic medicines, rational drug policy, healthy lifestyles and, most importantly, enough doctors. I urge the Indian Diaspora to avail this historic opportunity to contribute to realising this dream," the health minister pointed out.
The minister admitted that in the areas of telemedicine, seminal research, surveillance and early warning systems and, most importantly, medical insurance, the Indian government could work with the proven expertise of Indian American doctors.