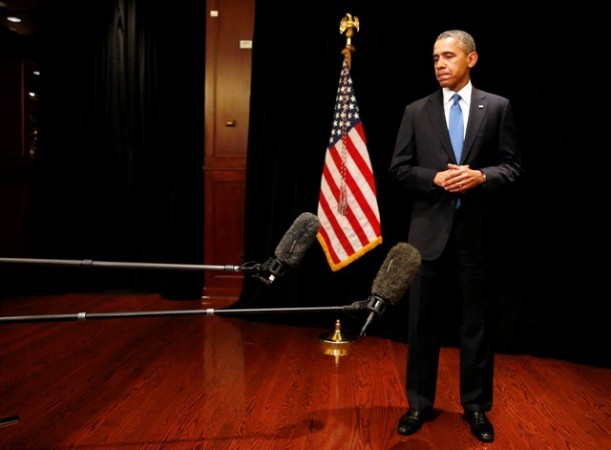 After a four-nation trip in Asia for eight days in last April, the US President Barack Obama is to travel to Poland, Belgium and France in June this year. The visit is as a part of the United States' ongoing consultation with its allies, the White House said on 2 May 2014.
President Obama, while in Warsaw, will hold bilateral meetings and join other world leaders in commemorating the Polish Day of Freedom, marking the 25th anniversary of Poland's emergence from communism.
From Poland, the President will travel to Brussels for the G7 Leaders Summit, which was moved to Brussels after the G7 leaders agreed to cancel the G8 Summit in Sochi due to Russia's illegal annexation and occupation of Crimea, the White House said.
The leaders will discuss their broad shared economic, security and development agenda and follow up on their 24 March discussion in The Hague on the situation in Ukraine.
The President, then will continue on to France to participate in commemorations marking the 70th anniversary of D-Day. The President greatly appreciates the sacrifices made by our veterans and their families, and he looks forward to honoring them, along with the contributions of all the allies.
National Teacher of the Year: Sean McComb
On 1 May, in the East Room of the White House, the President welcomed the 2014 National Teacher of the Year and state finalists - a group that he called "phenomenal," and "the best of the best."
"Today is a chance to thank not just the teachers on this stage, but teachers all across the country," said the President. "We really can't say enough about how important their role is in making sure that America succeeds. So thank you for what you're giving our children and what you're giving our nation."
After emphasizing the significant role that teachers play in the US society, the President honored the National Teacher of the Year, Sean McComb, who is a teacher at Patapsco High School and Center for the Arts in Baltimore.
She works with students in a programme called Advancement Via Individual Determination (AVID) - a college-readiness programme aimed at capable students who just need that extra push. 98 percent of the students in AVID's last two graduating classes were admitted to a four-year college, and earned more merit scholarship money than the rest of the school's graduating class combined.
The President praised Sean for his commitment to his students, and reiterated how influential teachers are in the lives of children.
(Ed:AJ)