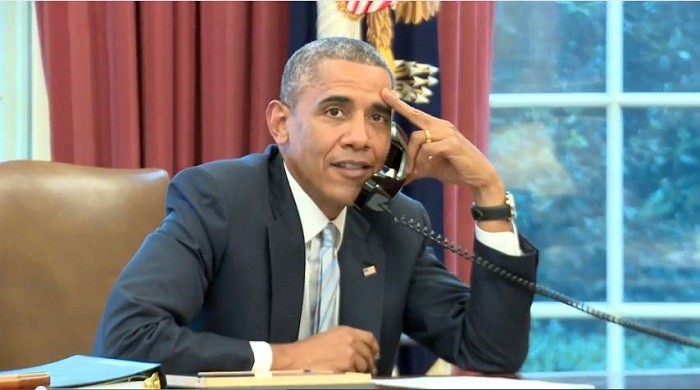 A New York newspaper has had to offer a red-faced apology after allowing an opinion writer to use the offensive racial N-word, while talking about US President Barack Obama in the headline of an article.
James Lincoln Collier, an opinion writer, wrote the piece for the July edition of WestView News, which was headlined: "The N*****' in the White House".
Despite the blatant offensive racial slur used – more importantly on the headline – the incident has gone largely unnoticed or ignored.
The main reason why the page-15 column by Collier was largely forgiven was because the article itself was actually intended as a pro-Obama piece, arguing that hardliner conservative opposition to the president was motivated by their racist bias.
In the op-ed, collier writes: "These far right voters hate Obama because he is black. The simple truth is that there is still in America an irreducible measure of racism."
The article appeared in the July 1 issue of the paper, which has circulation of over 12,000 in New York City.
The article, though meant to be an ironic statement, has however, not gone down too well with certain section of the people in social media, who have argued that the use of the term is not acceptable by any means.
The publisher of the paper, George Capsis – having received wide-spread condemnation for allowing the use of the word – has conceded that doing so was "wrong" and that he had overruled his staff, including his UK-based editor Jane Singer, all of whom warned him against using the word.
"He (Collier) did not realise how loaded that word was. He was very proud of what he did. He thought any black who read that article would say, 'how brilliant, how sympathetic, how intelligent you are'," Capsis told Sky News.
He wanted to demonstrate that there were still these extreme, hateful, unthinking, unreasoning voices out there.
"My staff were vehement. I thought that they were wrong. Now in retrospect I realise that I was wrong: You just can't use that word anymore, even if you are on the right side," the publisher said adding, "Even the most liberal of liberals can't use that word, if he is not black. The word itself triggers such a deep emotional and traumatic response that reason is gone."
Capsis added that the article appearing directly below Collier's, having written by an African-American columnist Alvin Hall, had been published as a piece that would rebut the earlier article.
In the other article, headlined as "The Headline Offends Me", Hall wrote: "For me, just seeing the n-word in a headline or in an article always makes me bristle. I feel a knot of indignation, disgust, and anger from in my gut."