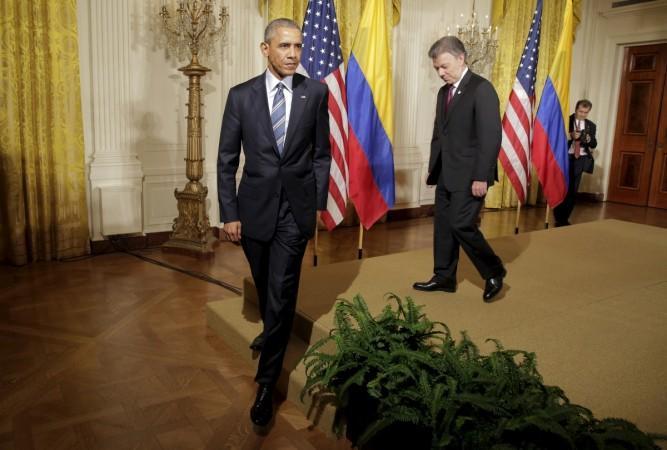 United States President Barack Obama reportedly said on Thursday that he would seek Congress' approval in increasing the annual aid package for Colombia to $450 million from $300 million. The aid is expected to help end over half-a-century-long armed conflict in the country.
The US president has also asked the Colombian government and leftist rebel group Revolutionary Armed Forces of Colombia (FARC) to reach an agreement so as to end the tensions in the region.
The existing US package, known as Plan Colombia, will be called Peace Colombia if the US Congress gives a nod to the proposal. The peace deal will cater to issues like increasing security, confronting drug mafia and educating FARC members, Reuters reported.
"The United States will work with you hand in hand ... I'm proposing that more than $450 million will be devoted to helping to reinforce security gains, reintegrate former combatants into society and extend opportunities and the rule of law into areas denied them for decades," Colombia Reports quoted Obama as saying after his meeting with Colombian President Juan Manual Santos.
Stressing on a peace deal, Obama said he will get more international aid once the conflict between the rebel group and government ends. After four years of talks, the Colombian government and FARC is reportedly on the brink of reaching an agreement.
"After half a century of wrenching conflict, the time has come for peace," Reuters quoted Obama as saying.
"Just as the United States has been Colombia's partner in a time of war, I indicated to President Santos we will be your partner in waging peace," he said.
The US President said the new peace plan will also focus on putting an end to drug trafficking. The US "will keep working to protect our people as well as the Colombian people from the ravages of illegal drugs and the violence of drug traffickers," he said, according to Colombia Reports.
FARC, which started the war against the Colombian government in 1964, has been reportedly raising money for its military campaign through drug trafficking and other criminal activities. The war has killed over 2.6 lakh people and displaced millions others.