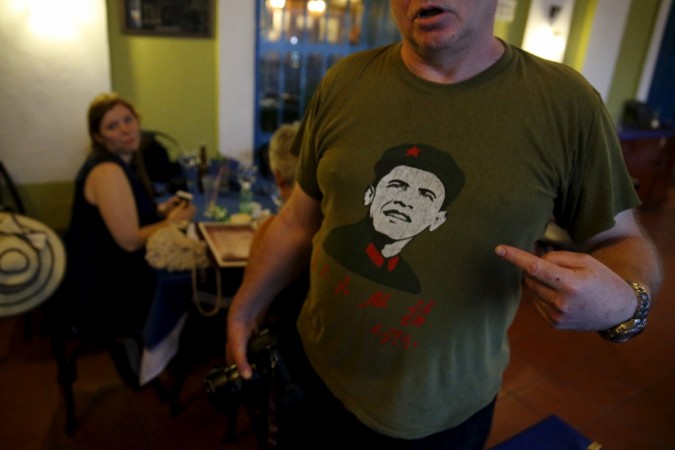 Barack Obama became the first American president to visit Cuba in 88 years, after he touched down in Havana Sunday, though Cuban President Raul Castro remained conspicuous by his absence in personally greeting the former at the airport, like he had Pope Francis last September. Republican presidential candidate Donald Trump was quick to tweet Obama was given "no respect."
The historic visit by the U.S. president, however, marks the beginning of normalisation of relations between the U.S. and the island nation, underscoring Obama and Castro's agreement to restore diplomatic ties.
"Que bolá Cuba? Just touched down here, looking forward to meeting and hearing directly from the Cuban people," Obama tweeted after arriving at Havana's Jose Marti International Airport in the Air Force One.
"Back in 1928, President [Calvin] Coolidge came on a battleship. It took him three days to get here, it only took me three hours. For the first time ever, Air Force One has landed in Cuba and this is our very first stop," Obama said while interacting with the US embassy staff in Havana, according to the BBC.
The Guardian described the first visit, not just by Obama, but also by several America journalists to Cuba, as "a Berlin wall moment."
However, Castro's absence at the airport is likely to be played up by Obama's critics back home.
"Wow, President Obama just landed in Cuba, a big deal, and Raul Castro wasn't even there to greet him. He greeted Pope and others. No respect," Trump tweeted.
Obama will meet Castro Monday at the Palace of the Revolution, but is not likely to meet the latter's brother and retired Cuban leader, Fidel Castro. The American president is expected to meet political dissidents during his three-day visit to Cuba.
U.S.-Cuba relations had been in deep freeze since the Cuban revolution ousted the pro-American government in 1959.