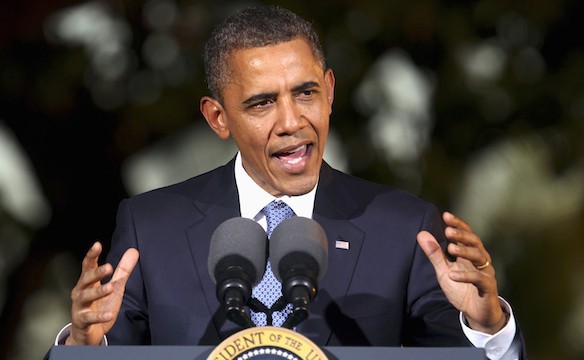 US President Barack Obama on Tuesday, 3 June, announced a $1 billion fund to boost America's military presence in European countries, which is under strain over Russia's aggressive actions in Ukraine.
He said that the security of US allies in Europe is sacrosanct for him. Obama's remarks come in the backdrop of European countries' concern over ongoing crisis in Ukraine and Russia's aggressive moves in the country, which is seen as a threat to them.
Flanked by Polish President Bronislaw Komorowski, Obama called on Russia to use its influence with militants in eastern Ukraine to support peace and help to prevent the flow of weapons and fighters into the region.
Obama is on a three-nation tour in Europe, and Warsaw was his first stop. The main motive of the visit is to reaffirm US commitment to its North Atlantic Treaty Organisation (NATO) allies in Europe.
Obama's discussions with European countries is going to be centered around the crisis in Ukraine.
Russia's actions in Ukraine have threatened the basic principles of territorial integrity and sovereignty and freedom of Europe, Obama said.
Media reports said that America's planned fund will be used to expand US military force and its exercises and training activities in the continent.
"I've come here, first and foremost, to reaffirm the enduring commitment of the United States to the security of Poland. As NATO allies, we have an Article 5 duty to our collective defense. As President, I've made sure that the United States is upholding that commitment," Obama said in a statement.
The US President, while stating that his home town Chicago had special connections with Poland, said: "We're on track with our missile defense program, including interceptor sites here in Poland."
American aviation detachment is the first regular presence of US forces in Poland. The US continuously rotates additional personnel and aircrafts into Poland and the Baltics, Obama said. "And I want to commend Poland for its contributions to the NATO air patrols over the Baltics," he added.
In Warsaw, Obama is scheduled to attend celebrations of the 25th anniversary of Poland's first free elections. When he arrived at Warsaw airport, Obama met US airmen taking part in a joint program with the Polish air force.