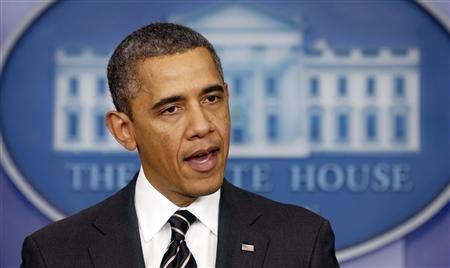 US President Barack Obama on Tuesday, 1 July, called upon congressional Republicans to take quick action to implement infrastructure projects that could put more workers into jobs and help the country's economic development.
The President said this before a cabinet meeting in Washington. Revealing the government's progress in the first half of this year, Obama hoped to achieve more in housing market and energy sectors. He revealed that in the last several years 9.4 million jobs were created, and said that the government will continue to work towards it.
Expressing his eagerness over accomplishable progress in core sectors like energy, Obama stressed on the need to focus on vital issues of middle class of the country.
"We've already seen the power of some of our executive actions in making a real difference for ordinary families -- whether it's on minimum wage for federal workers -- or for workers who are with federal contractors; equal pay; and the terrific work that's being done around climate change so we're transitioning to a clean-energy economy,'' Obama said.
The President also underlined the need to make the government's functioning more customer-friendly. "I expect every agency to look and see how can we get more bang for the buck in the agencies that we operate," he added.
Obama also told government agencies to strive to reduce paperwork and bureaucracy's red tape for infrastructure projects.
The government machinery should take initiatives around the country in sectors like education, energy, housing and transportation, he added.
The President said that he was directing his team to look for creative ways to accomplish what Congress was reluctant to do.
"What I'm going to be continually pushing throughout this year and for the next couple of years is that if Congress can't act on core issues that would actually make a difference in helping middle-class families get ahead, then we're going to have to be creative about how we can make real progress," Obama noted.
Explaining that he is always going to work with Congress to come out with legislations, Obama stressed on the need to strengthen the country's immigration system and infrastructure. "We'll be talking a little bit about how we need to renew the Highway Trust Fund. But, more importantly, we could potentially put people to work all across the country, rebuilding roads and bridges, putting construction workers back to work,'' the President said.
He also highlighted the fact that developing road infrastructure could boost American economy enormously, and now is the time to do it. He recalled his recent visit to Minnesota and the interactions he had with the local residents. He said that working class, with their hard work, was contributing a lot to their community. He vowed to focus on the town's hopes and aspirations.