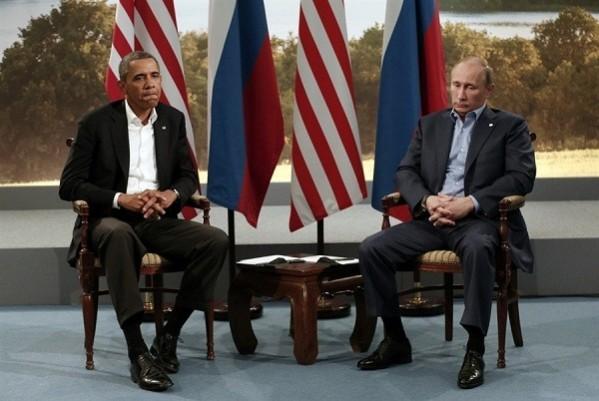 In an interview with NBC that will be telecasted on Friday, US President Barack Obama can be heard calling Russian President Vladimir Putin's tough guy demeanor a 'shtick'.
Etymologically speaking the word shtick has Yiddish origins but is also closely related to German word 'stück', not be confused with 'stuck-up'. In simple terms, it means 'something that a person likes to do or does well'. A shtick also refers to an adopted persona, usually for comedy performances.
So is Obama calling Putin a comedian?
Obama and Putin have had turbulent diplomatic relations, with disagreements stemming over Syria, American fugitive Edward Snowden and human rights.
But in the new interview, which coincides with the Sochi Games 2014, the US President vouches for his Russian counterpart and denies that their relationship is 'icy'.
Obama noted in the NBC interview that Putin's bored, tough guy act was designed to boost his domestic political image. In fact, Obama pointed out that Putin is funny and friendly.
"The truth of the matter is that when we are in meetings there are a lot of exchanges, there's a surprising amount of humor, and a lot of give and take," he said in the excerpts of the interview, released by NBC.
Obama commenting on Putin's shtick took many by surprise. Senior White House correspondent Mark Knoller even commented on the matter on Twitter. "First time a US president has spoken publicly about a foreign leader's 'shtick'," he wrote.
First time a US president has spoken publicly about a foreign leader's "shtick."

— Mark Knoller (@markknoller) February 7, 2014
Obama seems to have been hinting that the Russian president attempts to keep a serious demeanor comes across as funny. "US politicians have a different style. We tend to smile once in a while," Obama added.
And the readers, who are still confusing shtick with a similar-sounding expletive, should know that in common usage, the word shtick also means any talent, style, habit, or other eccentricity for which a person is particularly well-known, even if not intended for comedic purposes.
So in short, may be what President Obama means is that Russian President Putin is funny even when he does not intend to be!
Now that certainly raises a question: what is Obama's shtick?