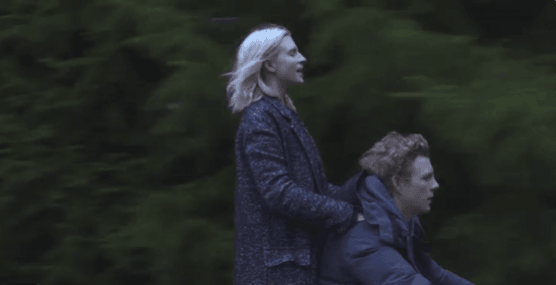 After a prolonged silence about Netflix show The OA's season 2, lead actress and co-creator Brit Marling has finally shared an update from the show.
The actress, who has sort of been missing from action for a while now, took to Instagram to announce that the second season filming has been completed.
She shared a picture from the sets featuring herself and director Andrew Haigh holding on a clapboard while there is chaos behind the two. The actress revealed that Haigh has directed two of the new episodes. Judging by the clapboard, he might have directed the season 2 episode 6 of the show.
Marling also revealed that the post-production of the season 2 episodes is going on in full swing. She wrote, "We are about to finish (today) all principal photography on Part II of The OA. The great filmmaker Andrew Haigh came to direct two chapters up in Oregon while Zal Batmanglij and I have been in the edit on the others in LA and NY."
A few hours before she shared the update, Zal shared a stunning visual of Marling from the sets of The OA. However, it did not reveal any spoilers about the new season or episodes, apart from that the episode was shot in Oregon. The two have kept the air date and episode numbers under the wraps as well. But fans could expect the new episodes to drop by end of this year.
Deadline had earlier reported that The OA was adding a new member to the pack. The Florida Project star Bria Vinaite joined the cast of the Netflix. Details about her role were kept secret at the time of the announcement.
The filming began filming in January with Marling showing fans eight scripts, hinting eight episodes. She tweeted a picture of herself and the scripts with the caption, "Excited and terrified by the roadmap of these 8 scripts, which took us all summer and fall to write. Shooting Part II The OA starts Jan 2018. Here goes something..."