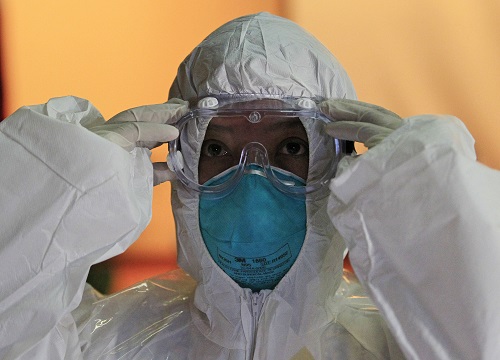 As many as 357 people have been kept under observation for symptoms of Ebola infection in New York City, health officials said on Wednesday.
Data shows that the number of people being monitored for Ebola has tripled within one week --from 117 on 30 October to 357 on 5 November, Newsday reported.
Explaining their action as a precautionary step, the New York City Health and Hospitals Corporation also added that the situation is safe as no one has exhibited any symptoms.
The list included travellers from the Ebola-hit West African countries and people who have come in direct or indirect contact with Ebola patient Dr. Craig Spencer, including those who tested his blood samples, helped transport him to Bellevue Hospital and the hospital staff who are presently taking care of him.
The health officials announced that they will continue to keep tabs on travellers from the three countries severely affected by Ebola like Guinea, Sierra Leone and Liberia.
"The number of individuals who will be actively monitored will continue to fluctuate as people arrive or depart New York City, we learn more about people's exposures, and 21 days of monitoring has passed," a statement appeared on the official website of New York City Health and Hospitals Corporation, read.
The statement also revealed that one of the three individuals who was quarantined for being in direct contact with Spencer has been released after the doctors couldn't detect any symptoms of the disease.
Though the person will be allowed to make public appearances, the Health Department staff will continue to assess the individual twice a day. Last week, another friend of Spencer was released from quarantine. Spencer's fiancée Morgan Dixon (30) is still under home isolation.
Meanwhile, the only Ebola patient in US, Spencer, is said to be recovering well from the deadly disease. "The patient being treated for Ebola at HHC Bellevue Hospital Center continues to show improvement and is stable. He remains in isolation and is receiving treatment," the officials added.
The latest developments bring hopes as the deadly virus continues to infect and kill thousands of people across the world. By end of October, the disease claimed 2,413 lives in Liberia, 1,510 in Sierra Leone and 1,018 in Guinea.
Senegal and Nigeria are the only two West African Countries who have successfully eradicated the disease from their soil. Both of these West African countries were declared Ebola-free by the World Health Organization in October.