Nvidia has surely come a long way since it launched its first ever graphics processing unit (GPU) GeForce 256 back in the year 1999. Ever since the American semiconductor maker has been making some of the fastest GPUs, and now it seems like it has outdone itself once again by announcing the - Titan V - which in Nvidia's own words is "the most powerful GPU ever created."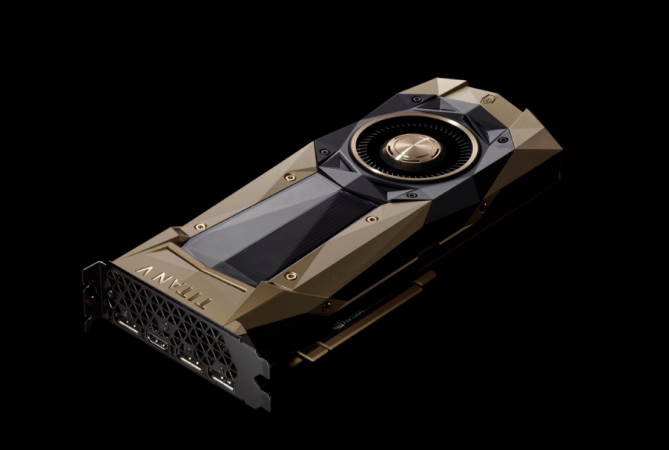 The Titan V is the first consumer-grade GPU that is based on Nvidia's new Volta architecture. It is undoubtedly way more powerful than most GPUs that claim to be the best, but despite being a consumer-accessible GPU the Titan V sells for a whopping $2,999 (roughly Rs 1,93,500) which is way much higher than the cost of a full-fledged gaming computer. But the Titan V is way more than just a gaming GPU.
Also, the Titan V comes in a black and gold colour scheme, which makes it look like an otherworldly gadget straight out of a super-hero movie (read THOR-Ragnarok).
The Titan V is fabricated using the 12-nm manufacturing process and is focused on artificial intelligence (AI) and scientific simulation processing. Nvidia claims that it can offer 110 Teraflops of performance from 21.1 billion transistors, with 12GB of HBM2 High Bandwidth memory, 5120 CUDA cores and 640 "tensor cores," that are capable of offering up to 9X the deep-learning performance than the Titan V's predecessor - Titan X based GTX 1080 ti.
Note: A 'teraflop' is a rate of computing speed that achieves one trillion floating point operations per second. *CUDA cores are parallel processors similar to a processor in a computer, which may be a dual or quad-core processor.
"Our vision for Volta was to push the outer limits of high performance computing and AI. We broke new ground with its new processor architecture, instructions, numerical formats, memory architecture and processor links," Jen Huang, Nvidia founder and CEO, said in a statement.
"With Titan V, we are putting Volta into the hands of researchers and scientists all over the world. I can't wait to see their breakthrough discoveries," he added.
That said, the Titan V is an insanely expensive GPU to be called a consumer-grade product, also there is no word on when Volta architecture might come to more affordable gaming GPUs.
In May 2016, Nvidia had unveiled the first GeForce 10 series GPUs – the GTX 1080 and GTX 1070, which are based on the company's current "Pascal architecture." The GTX 1080 still remains the best gaming GPUs available for the consumer.