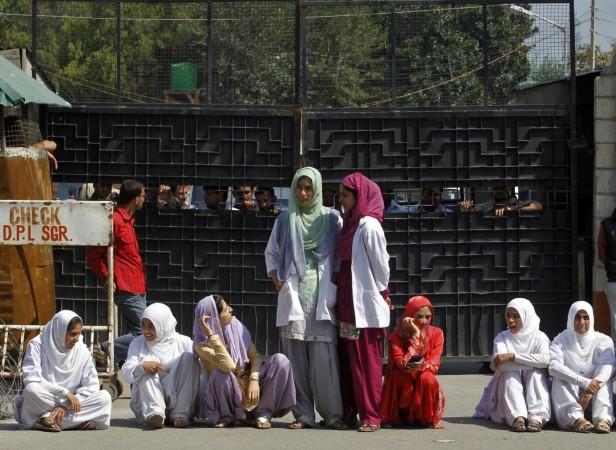 Nurses working in government hospitals across the country reportedly observed a strike Friday as part of the ongoing protests that started with a hunger strike Feb. 12 in New Delhi. The All India Government Nurse's Federation (AIGNF) gave a mass casual leave call Friday, demanding various allowances as per the 7th Pay Commission recommendations. The nurses took one-day casual leave to join the protests.
AIGNF members said although they were trying to negotiate with the government, they were not given an appointment by the minister concerned.
The nurses also shaved their heads as a mark of protest at Jantar Mantar in New Delhi, the Hindu reports.
The ongoing protests crippled healthcare services in government hospitals across the country.
Around 120 surgeries were rescheduled Friday and only emergency operations were performed at Delhi's two major hospitals — Safdarjung Hospital and Ram Manohar Lohia (RML) Hospital — because of the strike, according to the Hindustan Times.
Over 1,100 nurses from various government hospitals in Dehradun, Uttarakhand joined the one-day strike, The Times of India reports.
The Nurses Welfare Association at Post Graduate Institute of Medical Education and Research in Chandigarh also joined the strike call despite an appeal by the hospital authorities urging them against it, the Indian Express reports.
Nearly 200 nurses from the Employees State Insurance Corporation-run hospital in Chennai joined the protest, as a result of which the hospital could not admit patients Friday, according to The Hindu.
The government has meanwhile sent circulars to all major hospitals saying participation of nurses in the ongoing strike would be considered a breach of the Essential Services Maintenance Act (ESMA).
"Even the nurses who want to work are not being allowed inside the hospital. All essential services, such as the emergency and ICUs, are being handled by nurses who work on contract, interns and junior doctors. Also, only the emergency operation theatres are functional," AK Rai, medical superintendent at Safdarjung Hospital in New Delhi told HT.
The nurses have threatened to go on an indefinite strike from March 15 if their demands are not met.
They are demanding risk allowance, night-shift allowances, five-day work for nurses in Railway hospitals and revision of entry-level pay.