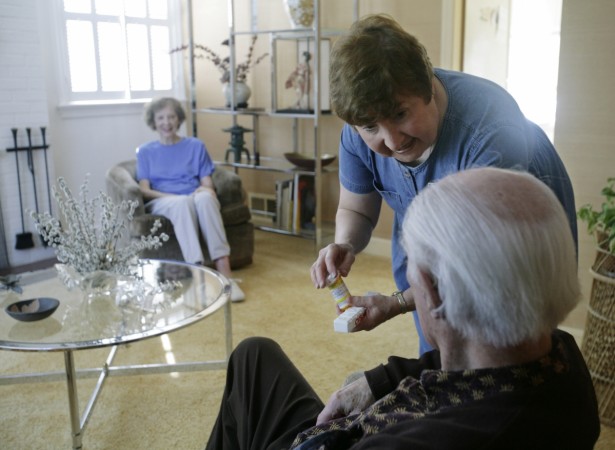 More older adults in the U.S. are taking drug supplements alongside their regular medications, thus putting them at increased risk of dangerous drug combinations.
The use of prescription medications and dietary supplements and concurrent use of interacting medications has increased since 2005, with 15 percent of older adults potentially at risk of a major drug-drug interaction, according to a study titled "Changes in Prescription and Over-the-Counter Medication and Dietary Supplement Use Among Older Adults in the United States, 2005 vs 2011."
The study took into account both prescription and over-the-counter (OTC) drugs as well as supplements, comparing the data from 2005-2006 to 2010-2011 about the instances of polypharmacy (concurrent use of more than five prescription medications) and instances of taking more than five prescription and non-prescription medicine, including OTC medication and supplements.
The result: polypharmacy instances increased among Americans of 62 years to 85 years old, growing from 30.6 percent to 35.8 percent. The study also found that the number of older patients taking five or more medications or supplements of any kind increased to 67.1 percent from 53.4 percent.
Additionally, there was a decline in the use of OTC medications among older patients, but an increase in the concurrent use of two or more dietary supplements to 47 percent from 31.6 percent.
Dima Qato, the study's lead author from the University of Illinois at Chicago, stated that this is a "concern from a public health standpoint, because it's getting worse," Reuters reported. "I think we have to keep in mind that while it's important to improve access to medications, we need to make sure they're used safely," Qato said.
Qato's team studied 2,351 adults with an average age of 71 in 2005-2006 and compared them to another 2,206 people about the same age in 2010-2011. They were interviewed in their homes to get good details of the drugs and supplements they used.
In a separate note titled "Nondisclosure of Complementary and Alternative Medicine Use to Primary Care Physicians: Findings From the 2012 National Health Interview Survey," published in the same journal, assessing the patterns of complementary and alternative medicine (CAM) used in the U.S., researchers found that 42 percent of adults "did not disclose the use of their most used CAM modality." Though the nondisclosure was because their physicians did not enquire about CAM or because they believed that their doctors didn't need to know.
According to Dr. Michael Steinman, a gerontologist at the University of California, San Francisco, these results can also be taken as positive. "We're treating more people with medications that could potentially help them. But when people have four or five chronic conditions, medications quickly balloon to a large number," he said.