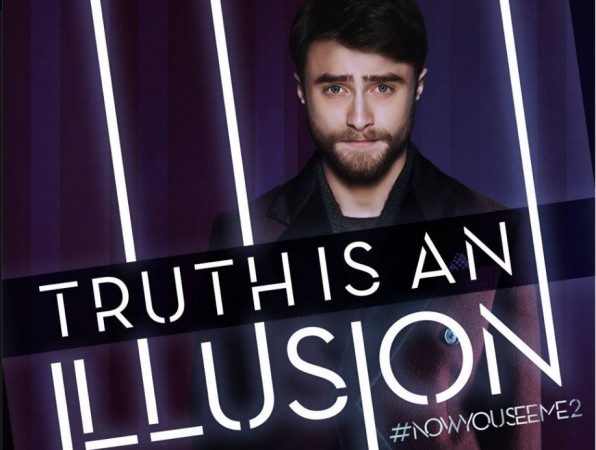 Daniel Radcliffe is best known for playing the titular boy wizard Harry Potter in the movies based on J.K. Rowling's book series. However, he will be using magic for all the wrong reasons as Walter Mabry in "Now You See Me 2," which will be released in India on Friday, June 17.
Radcliffe is a newcomer to the franchise and is taking over as the villain in the film. Like most villains, though, he does not see himself as one. "Walter's quite a lonely character, I think. Half of his motivation in doing what he does in this film is to just try and get some friends. I think he is slightly enamoured by the horsemen and just thinks they're the coolest and just wants them to like him, but because they don't he sort of resorts to not treating them well."
Playing the bad guy did not put any dent in the fun he had while shooting though. "It was to go in and interact with the group. I had some great scenes with Woody [Harrelson] and stuff that incredibly fun to play... And, Mark [Ruffalo] and Jesse [Eisenberg]... Everyone really," Radcliffe says regarding the shooting experience.
Also Read: Jatin Varma promises Bangalore Comic Con 2016 is going to be "Epic"
In fact, he may have had more fun than everyone else in the cast, because he was flown to Macau to shoot merely four scenes. This meant that Radcliffe could have fun a lot of the time that the rest of the gang were shooting.
"I ended up having a lovely time to sort of explore Macau for a couple of weeks. I felt really bad. It was one of those days where I'd go into work and be like, 'Hey guys, sorry you've all been working like 12 hours and I've just been like gambling in a casino,'" Radcliffe says regarding his relatively relaxed shooting schedule.