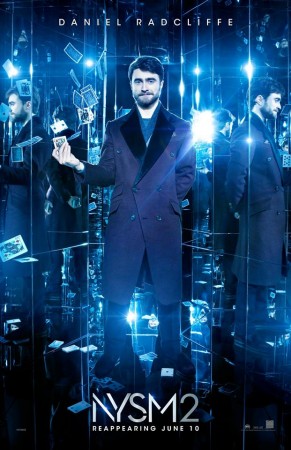 The "Four Horsemen" are back, and this time, they have got more eye-popping and incredible tricks up their sleeve. However, things won't be that easy this time as their heist will be threatened by a tech prodigy who knows their secrets.
The new character posters revealed by Entertainment Weekly include Daniel Radcliffe's character, Walter Mabry, playing with cards and smiling at the camera. The synopsis of the movie states that Walter is a tech magnate whose corporation conducts several unethical and illegal researches.
Once the Four Horsemen come to know about Walter's activities, they decide to expose him and his works. However, Walter is a few steps ahead of them. He tells the team of magicians and illusionists he knows their secrets and if they try to expose him, he will reveal their secrets to the public.
Now in a grave dilemma, the Horsemen will have to make a hard decision between saving their act or exposing Walter's evil plans.
Not much information has been revealed about Radcliffe's character. In the trailer, he can be seen as a seemingly naïve and decent person who is a little nervous. However, the trailer doesn't hint at what his real motives are. According to Entertainment Weekly, Walter might have some connection to a character from the first film.
Radcliffe, who is best known for the role of the eponymous boy wizard from "Harry Potter" film series, has been cast as one of the main actors in the movie. Hence, whatever role Walter has in the movie, it is undoubtedly going to play a major part in shaping the plot.
However, how prominent Walter's role will be in the movie will be revealed once the film releases on June 10, 2016.
Besides Daniel Radcliffe, Mark Ruffalo, Morgan Freeman, Jesse Eisenberg and Michael Caine reprise their roles of Dylan Rhodes, Thaddeus Bradley, Danny and Arthur Tressler, respectively.