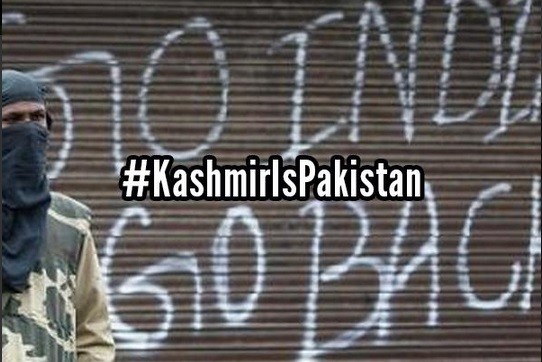 Even as Indian and Pakistani troops hurl accusations at each other for 'unprovoked' ceasefire violations that has led to several civilian deaths on both sides of the border, several Pakistanis have now began firing salvos on Twitter to launch a tirade against India.
On Wednesday, as the border conflict escalated, hateful hashtags such as #CowardModi, #FreeKashmirFromIndia, #IndiaIsTerrorist and #BoycottIndia were the trending in Pakistan on Twitter.
Some posts read as – "This is yet another atrocious and wicked act committed by CowardIndia and their #cowardModi against Pakistan #IndiaIsTerrorist #UN, and, "India have occupied Kashmir since 1948 just like Israel have occupied Palestine #FreeKashmirFromIndia #CowardModi #FreeKashmir", and several others.
Here are some of the tweets from Pakistan -
It must be asked clearly to INDIA,what do they want "Peace" or "War" Pak is ready for every option.dont kill my innocent People #CowardModi

— Adger Alam (@AdgerAlam) October 8, 2014
To hell with 'Aman ki asha'. Pak army should destroy indians. #CowardModi #FreeKashmirFromIndia #IndiaisTerrorist #BoycottIndia — FizzaPTI (@fizza_pti) October 8, 2014
I'm #Pakistani and I hate #CowardModi soon we will liberate kashmir from India Inshaa ALLAH. #FreeKashmirFromIndia #CowardModi

— Zoya Ejaaz™ (@zoyaejaaz_PTI) October 8, 2014
On Tuesday, Pakistani political scion Bilawal Bhutto had posted a controversial statement on Twitter, comparing India to Israel.
Another attack on LOC. seems India adopting Israle model vs Pakistan.Modi must realize we can retaliate unlike his victims from Gujarat. — BilawalBhuttoZardari (@BBhuttoZardari) October 7, 2014
Several such scathing posts reveal the general perception in Pakistan about the border crisis, given that Pakistani media has been consistently reporting that it is India that was responsible for the firing.
Some of the headlines in the Pakistani media over the last few days have been - 'Indian troops again violate LoC ceasefire', 'Pakistan urges India to show restraint, condemns ceasefire violation' and 'Pakistan Army gave a befitting response to Indian aggression'.
The DAWN newspaper had quoted the Inter Services Public Relations (ISPR) stating that it was the Indian Border Security Forces (BSF) personnel who resorted to "unprovoked firing" along the working boundary in Sialkot as a result of which four people were killed and five others sustained injuries.
There are also reports that the Pakistani Army is throwing its weight at the national media and curbing it from showing the extent of damage on its side following retaliation by Indian troops across the border.
The Pakistani government too has blamed India for the border skirmish and complained to the United Nations.