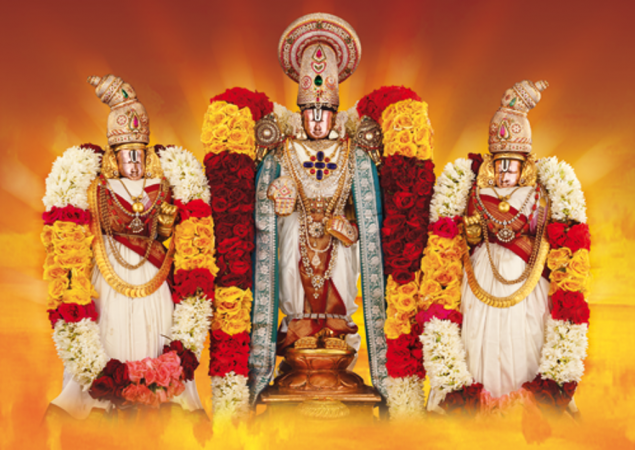 Acting on the instructions of Chief Minister N Chandrababu Naidu, Andhra Pradesh government has taken the initiative to work towards easing the hardships of devotees, while they stand in queue for the darshan of the deity of Lord Venkateswara Swamy in Tirumala Hills.
A three-tier queue system of devotees is being introduced to ease the burden of long waiting at Tirumala temple complex "Vaikunttam", state Endowments Minister Pydikondala Manikyala Rao said.
Rao said all devotees can have darshan of the deity after only a two-hour wait in the queue, as per the new plans formulated by his department, The Hindu reported.
Tirumala visit is known for its long hours of waiting in queue for the darshan. Sometimes, especially during holiday season and some traditional festival season, the deity's darshan durations run into tens of hours. On such occasions, devotees face hardships by waiting day and night in the temple complex.
After becoming the CM, Naidu visited the temple and enquired the devotees about the practical problems they face in having the darshan.
With the help of a particular software, a specific time will be allotted to each devotee for darshan. Accordingly, the devotees can visit Tirumala and join the darshan queue at a stipulated point about two hours in advance, Rao said, after offering prayers at the ancient Sri Lakshmi Venkateswara Swamy temple at Devunikadapa.
Rao added that the new system would be convenient to the devotees as they would be intimated clearly when they should join the queue at the temple. With the introduction of the system, the devotees could make use of their time to visit other temples in and around Tirupati, and also other pilgrim spots like Paapavinasanam and Aakasha Ganga on the Tirumala Hills.
Tirumala is a major pilgrim and tourist spot in Andhra Pradesh, where lakhs of devotees visit everyday, from all over the country.
The minister also stated that a committee would be formed to inquire into the encroachment of lands which belong to the state's Endowment Department. The committee, to be headed by a retired high court judge, would submit its report.
the minister said that about 28,000 acres of the department's and temple lands have been encroached upon in the state. Cases against such encroachments are pending in courts and tribunals, Rao said. Once the committee submits its report, action would be taken against the land encroachers, he added.