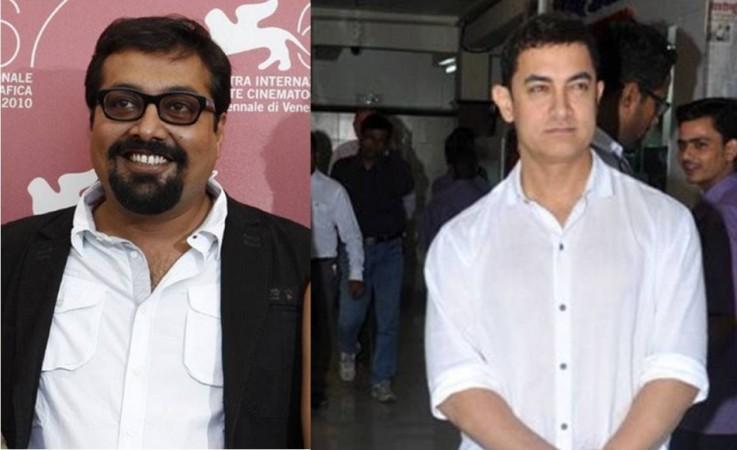 Bollywood will stand divided come this December when two of the most awaited films in recent times - Aamir Khan's "PK" and Ranbir Kapoor's "Bombay Velvet" - release on the same date.
The clash of the two big projects has been the talk of the town, ever since Khan announced "PK" release date as 25 December, earlier this year. Anurag Kashyap had previously revealed that "Bombay Velvet" would release on the same date.
The news was certainly upsetting for Kashyap as he lashed out at Khan and "PK" director Rajkumar Hirani.
Kashyap, who was clearly miffed with same date release of "PK", told Mumbai Mirror: "All it would have taken is a phone call. At that point, they said there were no such plans... It hurts because I respect Raju (Hirani) as a filmmaker and as a person. Apart from being a colleague, he is also a friend."
After Kashyap vented out his ire towards the "PK" team publicly, now the perfectionist Khan has followed it up with a jibe towards the "Bombay Velvet" makers.
The 48-year-old actor is understood to have caught up Madhu Mantena, one of "Bombay Velvet" makers, recently and greeted him with a sardonic remark. "Kya bhai, aaj kal toh tum bade star ban gaye ho. Aur hum to purane actor hokar rahe gaye (You have become such a big star these days and we are reduced to old actors now), the tabloid quoted Khan as saying.
Khan's comment, made at Kangana Ranaut's birthday bash, was witnessed by an onlooker, who claims it made Mantena uncomfortable.
It should be noted that the superstar had previously worked with Mantena in the blockbuster movie "Ghajini" (2008) and has shared a pleasant rapport till now. But given the present scenario, it is obvious that the "Bombay Velvet" and "PK" clan are currently at war, and the tensions are likely to escalate as the release date of the films inches near.