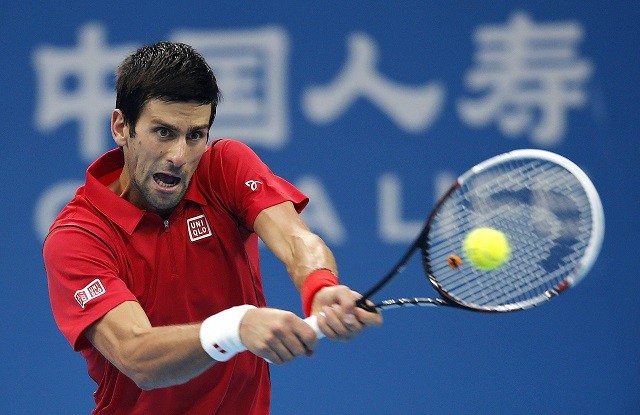 Novak Djokovic has not been too accustomed to losing his world number one ranking over the past couple of years, but even the Serbian admitted Rafael Nadal, who took over from the Australian Open champion as the new No.1 on Monday, deserves to grab that spot.
Nadal has been on an absolute tear since coming back from a long-term injury, winning the French Open for a record eighth time, before dominating the hard courts to end up with the U.S. Open crown.
Djokovic got a little bit of his own mojo back after defeating Nadal in the China Open final on Sunday, but cannot look beyond the fact that the Spaniard has still been the best player in the world this year.
"He deserves to be number one," Djokovic said. "Results are there for him. Definitely he's so far the most successful player in this year.
"I can affect only what I can affect, and that is to play the best tennis that I possibly can in the moment and to try to take one tournament at a time and continue on doing what I have done in the last week in Beijing."
The best tennis Djokovic has ever played was undoubtedly in 2011, where he had one of the best ever season in tennis when he won 10 tournaments overall, including three Grand Slam titles.
The Serbian is looking for his second straight title at the Shanghai Masters, after winning the China Open last week, and Djokovic believes another season in the realms of 2011 is still a possibility.
"I am aware of the fact that the 2011 season will be very difficult to repeat but knowing that I have done something like that, knowing that I've lost only few matches in a whole year, gives me a lot of confidence and also belief that I can do it again," said the 26-year-old, who has agonisingly fallen short in the last three Grand Slams.
"I always expect for myself a lot, always have the highest possible ambitions. Every year brings something different. It's not possible to always be at your best, to win most of the tournaments that you play."
Djokovic faces a potential matchup with Roger Federer in the quarterfinals of the Shanghai Masters, if both of them reach the last-eight, and the Serbian still considers the Swiss Master a threat, despite Federer's recent struggles.
"To play against him on any surface is always very unpredictable really," Djokovic added. "If he's on that day, we all know what he's capable of."