John McEnroe and controversial comments are like bread and butter, food and wine, the beach and a cold beer. The latest one from the McEnroe production line came on Thursday, when the American compared Novak Djokovic to Tiger Woods, and not in a positive manner.
Djokovic's struggles on the court have been there for everyone to see, with the Serbian, since completing a career Grand Slam by winning the French Open in 2016, struggling to clinch another major.
The fact that Djokovic was THE dominant force for so long, and suddenly tailed off has led to certain suggestions, chief of them being problems in his personal life, and it is at that particular aspect that McEnroe, always happy to stoke the fire, latched onto.
Speaking during BBC's coverage of Wimbledon, McEnroe sprung on the Djokovic slump, claiming the problems might lie off the field rather than on it.
"(Djokovic) has had some off-court issues with the family," McEnroe said. "That's going to throw you."
And then came the Woods comparison. "The person that comes to mind immediately with Novak is not a tennis player, it's actually a golfer: Tiger Woods," McEnroe added. "[Woods] had the issues with his wife, and then he seemed to go completely off the rails and has never been even close to being the same player.
"So we're starting to say: 'Wait a minute, is this possible with [Djokovic]?'"
Woods infamously came into the spotlight for all the wrong reasons when his off-field transgressions led to his split from his wife. Since then and due to quite a few major injuries, Woods hasn't been the same, with the American's fall from grace culminating in him being arrested recently in Florida for a DUI.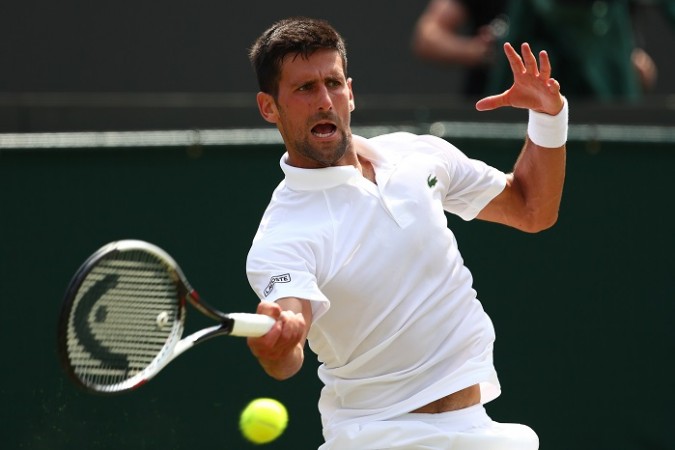 Djokovic has not quite gone off the rails yet, like Woods, and the Serbian, whose wife Jelena is currently pregnant, took the diplomatic route when asked about McEnroe's comments.
"I have heard about it today," Djokovic, speaking to reporters after his straight set victory over Adam Pavlasek in the second round, said.
"Look, John has a complete right to say ... anybody, really, in the world has a right to say what they want, and I respect that right – especially coming from John, because he's someone that has earned that right because of who he is and what he has meant to the sport and what he still is representing as a former player and still being very active on the tour."
Intriguingly, though, Djokovic did not deny having problems in his personal life, although that could also be because he wants to keep his personal life, well, personal.
"He's very well known for his, you know, kind of bold comments," Djokovic added, continuing on the McEnroe comments. "I always got along very, very well with John. We even practised a few years ago before one of my matches in US Open, and [he] was always talking nicely about me. I really don't take it in a negative way anyhow. It's fine. He has his right to say the things he wants to say.
"I don't necessarily need to agree with that. But it's his right. I don't know where was the basis, and he was just maybe making a comparison. I'm not really sure."
Jokingly, or otherwise, Djokovic suggested a serve that went a little awry might be the reason for McEnroe targeting him during the most important Grand Slam of the year.
"When I was warming up for my first match on the Centre Court, he was giving an intro, talking to the camera, and I served and the serve went straight at him as I was playing," Djokovic said.
"I don't know. Maybe it's because of that. Maybe he thought it wasn't a joke, and I was joking, [that] I was trying to hit him. I don't think there was any kind of really wrong intention from his side towards me."
Personal life issues or not, Djokovic is nowhere close to imploding like Woods did. He remains one of the best players in the game, and the dip in form is probably just him plateauing after a ridiculously-impossible-to-sustain run of results.
Indeed, will anyone be surprised if Djokovic scorches his way through the opposition to lift his fourth Wimbledon title? You can't even imagine Woods winning another major now can you.