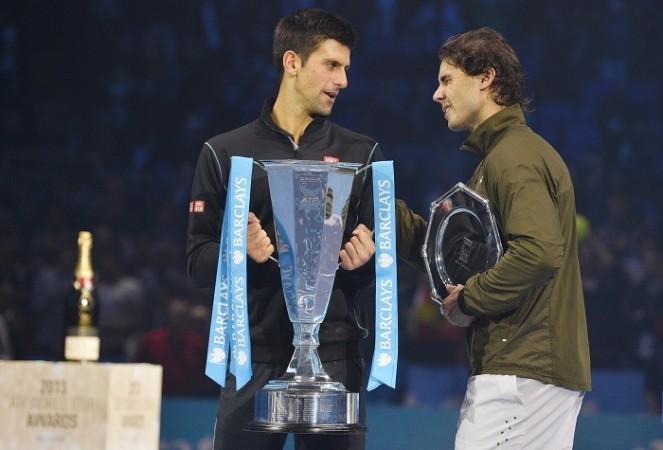 Novak Djokovic underlined his authority on the indoor surface with a dominating straight-set victory over world number one Rafael Nadal in the title round of the ATP World Tour Finals in London.
Djokovic came into the final on the back of a 21-match unbeaten streak, which saw him grab titles in Beijing, Shanghai and Paris, and there was no stopping the Serbian on Monday night as the world number two got off to a flying start before comfortably seeing off the challenge of Nadal 6-3, 6-4 in 1 hour and 37 minutes.
"We push each other to the limit [and] we make each other better," said Djokovic, who won his third year-end title. "We make each other work harder on our games, especially when we play against each other. It's always a huge challenge.
"This can serve as a great platform for 2014 season. I'm extra motivated and inspired to work and get myself, first of all, rested and recovered in the off season, and then work on my game and get ready for Australian Open."
Nadal went down 0-3 in the first set, and despite improving after that slow start it was always going to be an uphill battle for the Spaniard, who admittedly does not favour the indoor surface.
The 27-year-old, though, will rue the fact that he has let slip another chance at winning his first ATP World Tour Finals title, having been beaten in his only other previous final appearance by Roger Federer.
"The thing that made the difference in today's match was the serve, I didn't serve well, he served well," Nadal told reporters after the match. "For the rest I felt that when I was playing, I was not far away off his level.
"At the beginning he was playing much better than me. After that I didn't see the difference. I felt that I was playing enough well to be little bit closer than the score. But at the end, I lost 6-3, 6-4. I lost 6-3, 6-4 because the opponent played better than me."
Nadal, who ensured he would end the year as the world number one earlier in the tournament, insisted he had no regrets over losing the final after completing a remarkable year where he came out of a potentially career-threatening injury to win several titles, including the French Open and the US Open.
"Winning or losing today was not going to change my career," Nadal said. "I am not very disappointed. I know that I was not the favourite for the match, even if I tried with the right attitude, fighting for every moment, even if the match was not going the way that I would like.
"It's very special what happened this year."