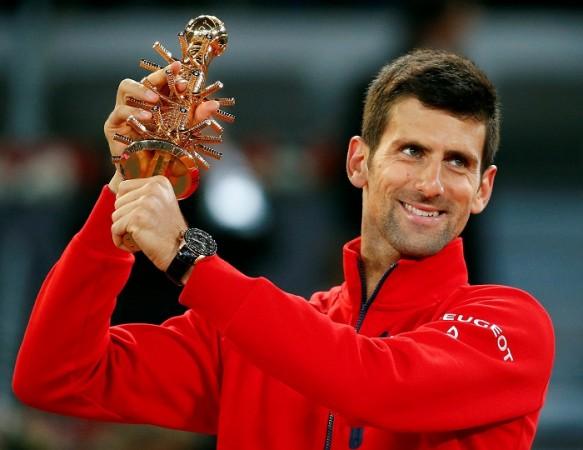 Novak Djokovic won his second Madrid Open title, as he defeated defending champion Andy Murray in a three-set affair on Sunday. The world number one played some brilliant tennis to get past Murray in 126 minutes, with the score reading, 6-2, 3-6, 6-3.
With this title triumph, Djokovic achieved some personal landmarks as well. The Serbian has overtaken Rafael Nadal, who has 28 Masters title under his belt, as Djokovic's Madrid Open win was the 29th of his career. Besides this, it was his 64th overall title, which brings him level alongside legends of the game -- Bjorn Borg and Pete Sampras.
"It's obviously very flattering to be alongside such legends of the sport, tennis players that I was looking up to, especially Pete Sampras. When I was growing up he was ruling the tennis world," ATP official website quoted Djokovic as saying.
"It's an achievement that I'm very proud of. As you said, it's a motivation for more. When you get to this particular phase of your career, you need to constantly look for more ways of inspiring and motivating yourself to keep going."
The Serbian looked in top-class form in the first set, but Murray showed some great character and skills to come back and win the second, which made matters really interesting. In the first two sets, the crowd were entertained with their brilliant display, and showed why they are two of the best players on the ATP circuit.
They continued their impressive show in the third set, as both the players played extremely well from the back end of the court, and were looking to finish the point with a powerful winner. Neither player gave easy points, which led to some quality rallies as well.
Despite a huge effort from Murray in the third set, the Brit finished second best as Djokovic turned up the heat to emerge victorious. Djokovic has a great record over Murray since 2014, winning 12 of the last 13 matches, and he continued his dominance in the Madrid Open final as well.
Despite his loss, Murray was quite pleased with the way things turned out in Madrid.
"When you play against the best players, you are probably not going to win every single time," BBC quoted Murray as saying.
"But you want to make the matches extremely difficult for them -- physically and mentally -- so it's not comfortable. So I think at least I did that, but unfortunately didn't get the win.It's been a positive week for me this week overal. A few years ago I wouldn't have thought I'd be winning against Rafa and then pushing Novak this close on a clay court."
With this victory over Murray, the world number one will go into the French Open in confident mood. Djokovic has won a number of titles, including all Grand Slams, barring the French Open, which he will be keen to win this season. The Madrid Open title is also his fifth in 2016.
Prior to the French Open, Djokovic will feature in another clay event in Rome.