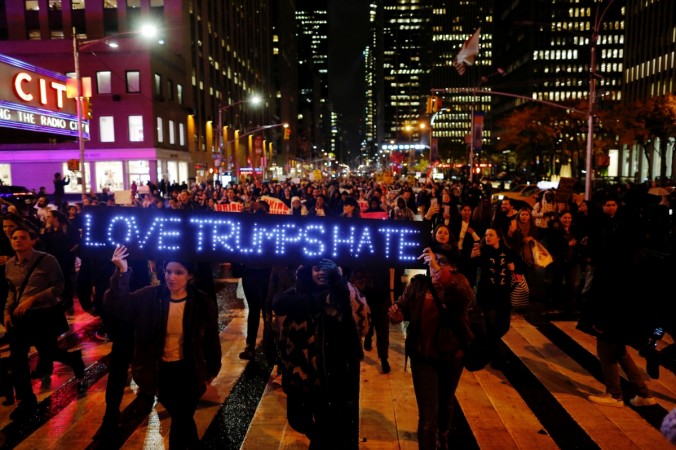 Thousands of people gathered outside the Trump Tower in Chicago and New York, US, on Wednesday night (local time) to protest against the new president-elect. Among the protestors was singer Lady Gaga.
"Hey, ho, Donald Trump has got to go," they chanted. People also said, "F–ck Donald Trump. Donald Trump go away, racist, sexist, anti-gay" and used rude gestures to indicate their displeasure.
Lady Gaga posed with a poster saying "Love trumps hate" during the protest on the evening of November 9.
Some of the protesters burned American flags at the anti-Trump protest in New York City, in lower Manhattan. Students at American University in Washington DC also set American flags on fire in protest of Donald Trump's presidential win.
The university said that it allowed students to exercise their freedom of speech and the protest was non violent and only slogans were raised.
Many people walked from the Union Square in New York City to the Trump Tower with posters saying," Not My President." Many people on social media protested against Trump using the #Notmypresident.
While some critics called the protestors "unemployed hooligans," others said that if they didn't protest when Bernie Sanders lost the presidential nominee race they deserve this.
Protests also took place in Seattle, Washington, Pittsburgh in Pennsylvania and outside Los Angeles City Hall in California.
Democratic candidate Hillary Clinton, who lost the race despite winning more popular votes, said that Trump should be given a chance. Thousands of people were in shock, not only in the US, but also across the globe after Trump's win. World leaders also expressed their shock at his win.