Racing ahead of San Francisco-Los Angeles and London-Paris, the Mumbai-Delhi air route emerged as the third-busiest in 2017, according to the report published by UK-based OAG Aviation Worldwide. Three domestic routes in India are among the top 20 busiest domestic air routes around the world. Asia dominates the list as world's fastest-growing travel market.
There were a total of 47,462 flights operated between Mumbai and Delhi last year, as per the report published by the air travel intelligence company. Mumbai-Delhi flight takes less than two hours and connects India's business capital with the nation's capital. The train journey of the same route takes about 16 hours and the aviation boom means fares can be as cheap as train tickets.

The other two Indian domestic routes that found a place on OAG's Top 20 Busiest Domestic routes list are Bengaluru-Delhi and Bengaluru-Mumbai. Bengaluru-Delhi route is ranked 11 on the list with 29,427 flights and the Bengaluru-Mumbai route is ranked at 16 with 23,857 flights.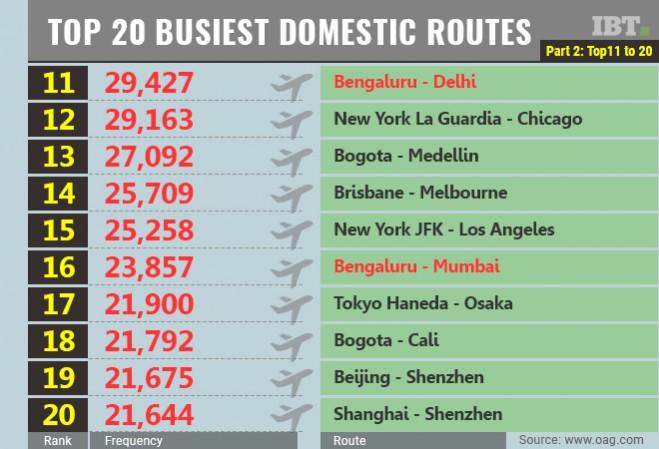 The trip between Seoul and Jeju, a tiny island off the coast of South Korea is world's busiest domestic air route. Planes made 65,000 trips between the Korean capital and Jeju island. The journey will take little more than an hour. Melbourne-Sydney is the second busiest air domestic route.
Los Angeles-San Francisco was the only North American entry in the top 20 busiest domestic routes and there wasn't a single European route. The busiest international air route in 2017 was between Hong Kong and Taipei, second in the list is Kuala Lumpur-Singapore.